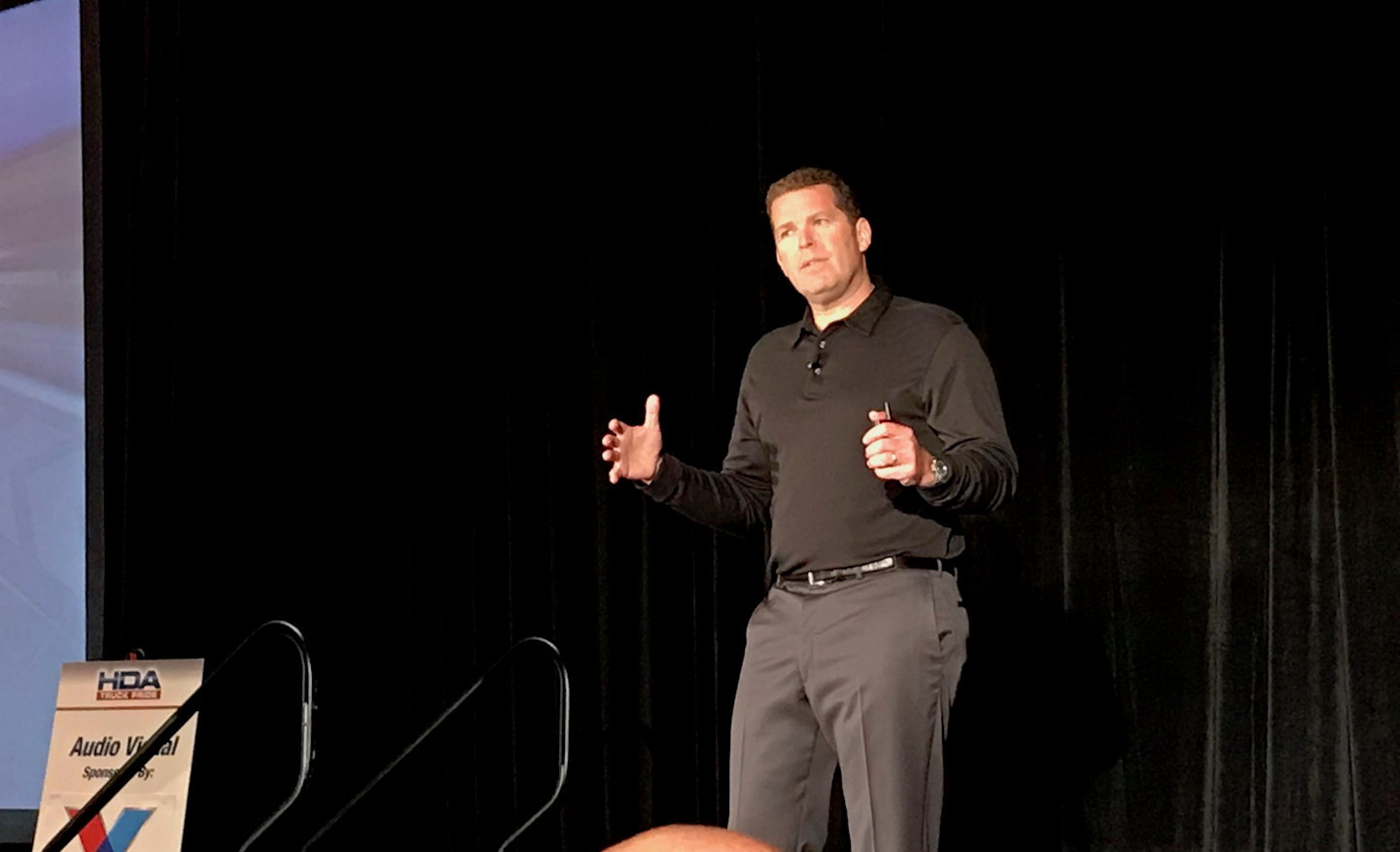 Alden Mills found out he had asthma when he was 12 years old. He still remembers the exact moment, a frightened child sitting in a doctor's office being told it was time to "take up chess."
Mills was so bummed in the moment he left the room in tears. He jokes now that he already wasn't great at checkers and, as a young boy, looking ahead at a lifetime of board games instead of athletic endeavors left him devastated. As the pity party developed in his mind, Mills' mother came to him, pulled him close and demanded he not let the doctor's words envelop him. "No one decides your limit," she said. "That's up to you."
Mills says the words resonated with him almost immediately. Back in control of his own destiny, Mills says he pledged then to never let his future be determined by anyone else. Whether he grew up an athlete or mathlete, Mills would live the life he wanted.
Speaking Thursday at the HDA Truck Pride Annual Membership Meeting in San Diego, Mills, now a renowned speaker, prolific inventor and long-time Navy SEAL, says he believes mental hurdles like the one he cleared in his youth are some of the biggest obstacles to success in all areas of life. While the heart motivates us to get out there and be unstoppable, the mind is what tethers us and holds us back.
It's done with good intentions — "it wants to keep us safe," he says — but when it comes to setting and achieving goals, there's no room for safety net comfort zones. "The head whines," he says. "It tells us what we can't and shouldn't do."
Mills says learning how to manage those thoughts of concern and negativity was a key part of becoming a SEAL.
SEAL training is a grueling 30-week course designed to push candidates to their mental, physical and emotional limit. Mills says his class lost nearly half its cadets in the opening weekend, and as the remaining students pushed deeper and deeper into the course, the torturous workload was expanded to drive more and more students to "ring the bell" and admit defeat. Mills says he made it through by listening to his heart.
"The head whines but the heart whispers," he says. "The heart says 'you can do it,' 'you have to try' and 'you can take one more step.'"
Since leaving the service, Mills says he's continued listening to his heart to avoid allowing his mind to talk him out of things he aspires to do. In 2002 he co-founded a business that would become Perfect Fitness, which in 2009 Inc. magazine ranked as the fastest growing consumer products company in the U.S. During his time with Perfect Fitness, Mills and his team patented more than 40 exercise products and grew from $500,000 in sales to $63 million in just three years.
Mills traces the company's meteoric rise to the same principles mentioned above, and he says distributors and parts suppliers can have their own expansive growth stretches by focusing the same way. He says once you determine where you want to go, it's all about commitment and motivation.
"When you decide to go, you have to go head first," he says. "You need to be all in."