The following comes from the June 2018 issue of Truck Parts & Service. To read a digital version of the magazine, please click the image below. 
A heavy-duty tractor trailer could be well-maintained and running at peak performance as a driver hits the highway. However, no vehicle is immune to issues on the road. Those issues could be mechanical, a flat tire, or myriad other unexpected problems that leave it inoperable or limping to the side of the road or nearest parking lot.
Luckily for truck owners, roadside service is available whether it's noon on a Wednesday or 3 a.m. on a Saturday. Aftermarket service providers who don't offer the service might want to consider adding this capability as those who do say it's a way to grow their business, strengthen bonds with customers and provide another revenue stream. There are caveats, however, shop owners must consider before making the decision to expand their business this way.
"I would recommend it. We've been able to grow our customer base by offering this service and doing it well, but the key is to make sure you think through all the pros and cons," says Scott Jones, president at Jones and Sons Enterprises Inc.
Communication is key
Once a call comes in from a stranded driver, communication is vital to getting his vehicle back on the road and keeping him and his company informed throughout the repair process.
Service providers need to get the most information they can about what appears to be the problem and drivers and their companies need to know technicians' estimated times of arrival, expected repair time and whether the truck can be fixed on-site or if a tow is ultimately necessary.
FleetNet America's primary business is managing third-party vendors to handle roadside truck repairs for its fleet customers. At FleetNet, the call-intake staff has a list of questions to determine the driver's location and what appears to be the problem with the vehicle, along with any other pertinent data. That information is transferred to coordinators, says Jim Buell, executive vice president of sales and marketing.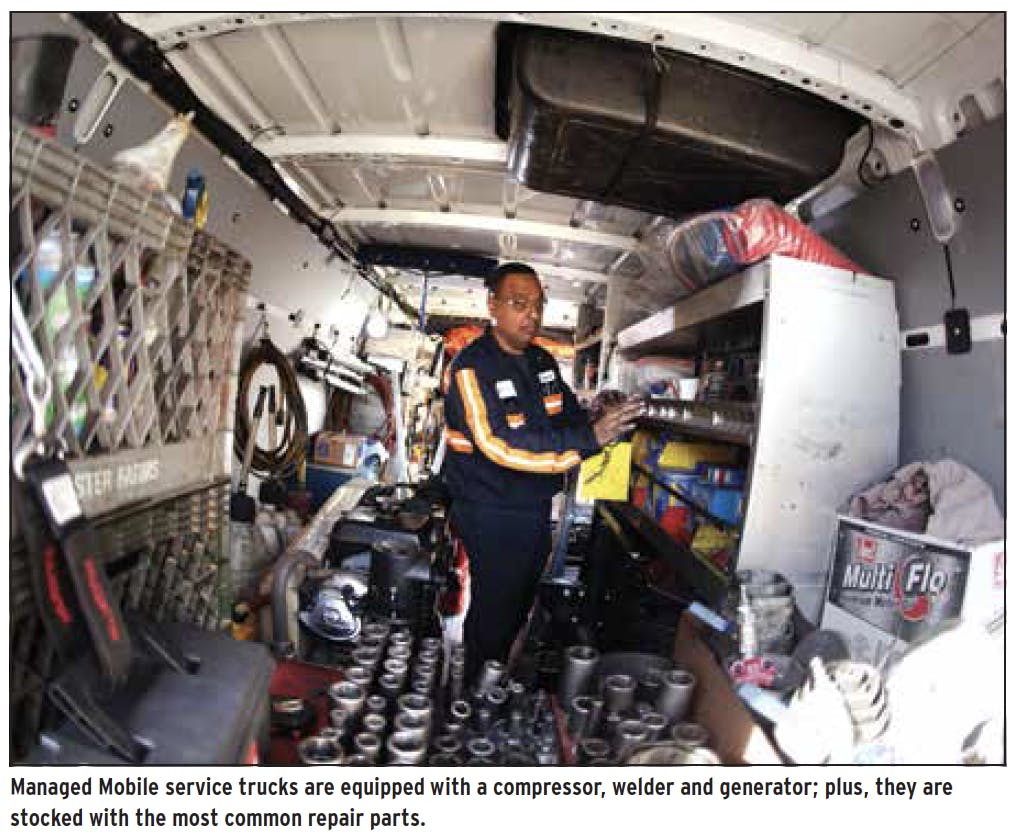 "We hire mechanically trained people who like to talk on the telephone and use the computer. [Coordinators] are hard to find and worth their weight in gold," Buell says. "Their job is to diagnose and dispatch, so they look at the information from the intake person and then make a determination of what the situation is and whether they have to call the driver back for more information."
The coordinator has a list of vendors offering roadside repair to choose from based on location, specialty and past performance. Once a repair truck has been sent out, FleetNet will follow up on the service provider's actual time of arrival and the progress of the repair.
"The most important thing in managing a road call is communication with the [fleet] customer, with the driver that's on-site with the vehicle and with our technician who's running the call to establish expectations based on what the situation is," says Paul Rygalski, owner at Managed Mobile Inc.
For example, after a conversation with a driver stuck roadside, Managed Mobile determined a leaf spring had broken and had the driver send a photo. Based on the photo, the decision was made to tow the vehicle because of the scope of the problem.
"That tends to be the exception rather than the rule. Most things you can fix, but when it comes to safety or for practical reasons, we may opt to tow the vehicle," Rygalski says.
When a call comes in to Love's Travel Stops, its dispatch department will determine the Love's Travel Stops location nearest to the stranded driver. Love's Travel Stops has more than 450 locations in 41 states across the U.S.
If the driver doesn't know what the issue is, a technician will get on the phone with him "so he can ask him if the engine is cranking, for example. There's a difference between a truck that doesn't crank, meaning it has a dead battery, or one that cranks but won't start, meaning there's some sort of engine problem," says Terry Sewell, tire care service operations manager.  "We try to do some diagnosing [of the problem] to determine what we need to take on that road service call."
Typical roadside repairs according to service providers include flat or blown tires, locked brakes, dead batteries, starters, alternators, coolant leaks, broken tail lights, electrical issues, air leaks, broken trailer doors — or the driver just ran out of fuel. The time service providers say they will spend on a vehicle ranges from no longer than two to four hours before they discuss with the truck owner that the repair might be too extensive, and the vehicle needs to be towed.
Cost of doing business
Offering roadside repairs 24 hours a day, seven days a week requires additional operating costs as well as other aspects of the service that need to be considered, such as vehicles full of tools and parts, increased insurance rates and the availability of technicians willing to be on call to perform repairs.
"You need a properly equipped service truck. Our service trucks are equipped with a compressor, welder and generator unit, and we stock them with the most common repair parts that can help us perform a permanent or temporary repair in the event of a road call," says Rygalski.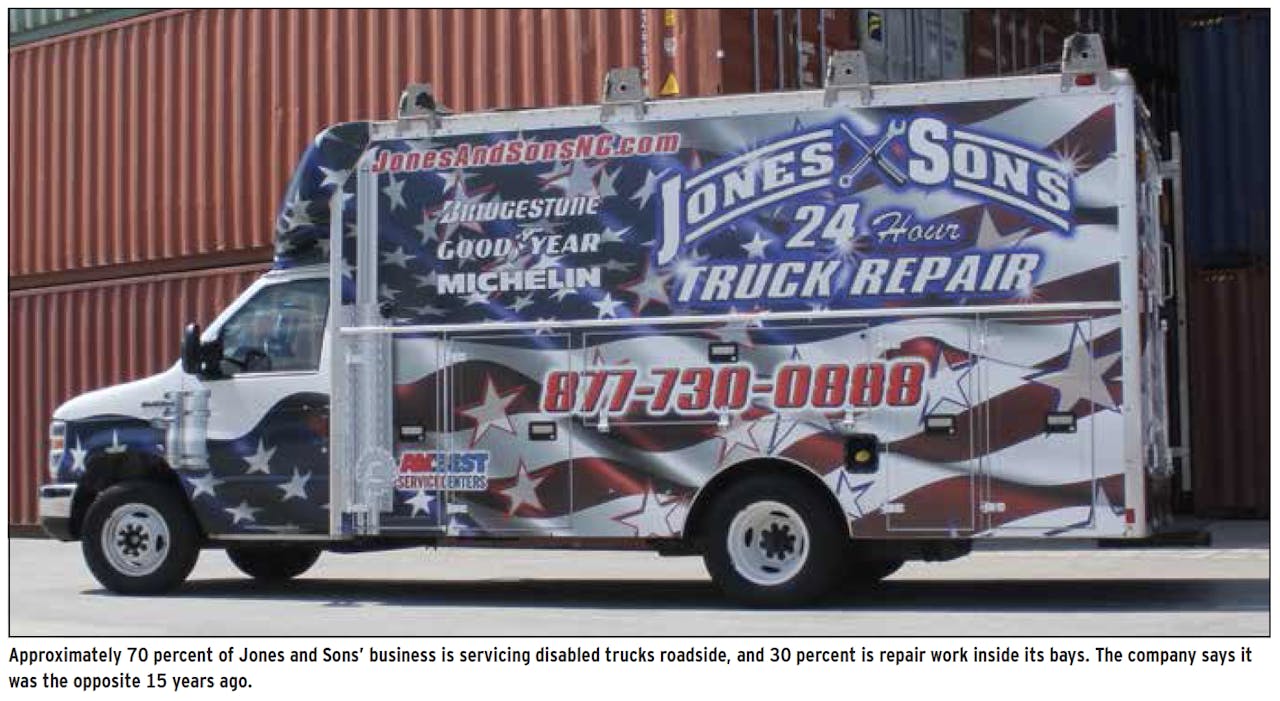 On top of the aforementioned costs, Jones notes the higher insurance rates for workers' compensation because of the dangerous nature of the job performing repairs to a vehicle on what could be the side of a busy road.
Jeff Kyrish, regional vice president at Kyrish Truck Centers, agrees "each vehicle represents a significant investment because you have a truck, parts inventory and tools capable of doing a majority of the work." He also says there's the expense of training technicians so they are capable of doing the kinds of repairs that can be performed on the side of the road.
"The idea that you can just replace one guy with another is not always correct because the guys who are trained to go out and work on the road have a specific skillset that not necessarily everybody else in the shop has," he says.
Kyrish explains the typical technician working in a bay will have any tool at his disposal as well as resources and fellow technicians to consult with, if necessary, when making repairs. The workspace is quite different on a roadside.
"Roadside technicians are going to have to think more on their feet and be able to adapt much more quickly and in tighter spaces. They're going to have to know how to make repairs by themselves in the middle of the night, in the middle of nowhere," he says, adding that Kyrish Truck Centers will rarely pull a technician out of a bay to go on a road call.
Employing enough qualified technicians has plagued the industry for years and the problem appears to be magnified when it comes to companies offering roadside repairs.
Vehicle and equipment needs aside, Sewell says the biggest challenge is finding qualified technicians. Love's Travel Stops is trying to combat this through an apprenticeship program, computer training and six mobile training labs with trainers who travel to the company's locations to provide further education for its employees. "We're hitting it on many fronts but staying staffed with mechanics is one of the big drawbacks," he says.
"The biggest challenge of doing this type of work is keeping techs who are willing to be available 24 hours a day, seven days a week," says Jones. "Everybody wants to work 8 a.m. to 5 p.m. Another drawback is you have to pay them really well to entice them to get up at 3 a.m. or on a Saturday or Sunday."
Jones and Sons has technicians dedicated to roadside work, but if there are a lot of calls, the company will pull technicians out of the shop. "We try to keep it separated as best we can, but that's not always possible," Jones adds.
Columbia Fleet Service Inc., which is run by Owner Kevin Murray and his family, includes a fleet of 13 trucks dedicated to roadside repairs, in addition to other services the 12-bay repair shop offers.
Seven technicians take trucks home so they can be dispatched from there after business hours.
Pat Murray, Kevin's son and general manager, says it can be difficult finding technicians willing to always be on call. That said, the company currently is fully staffed and the Murrays know certain employees would rather work in the shop, so they aren't sent out on road calls unless necessary.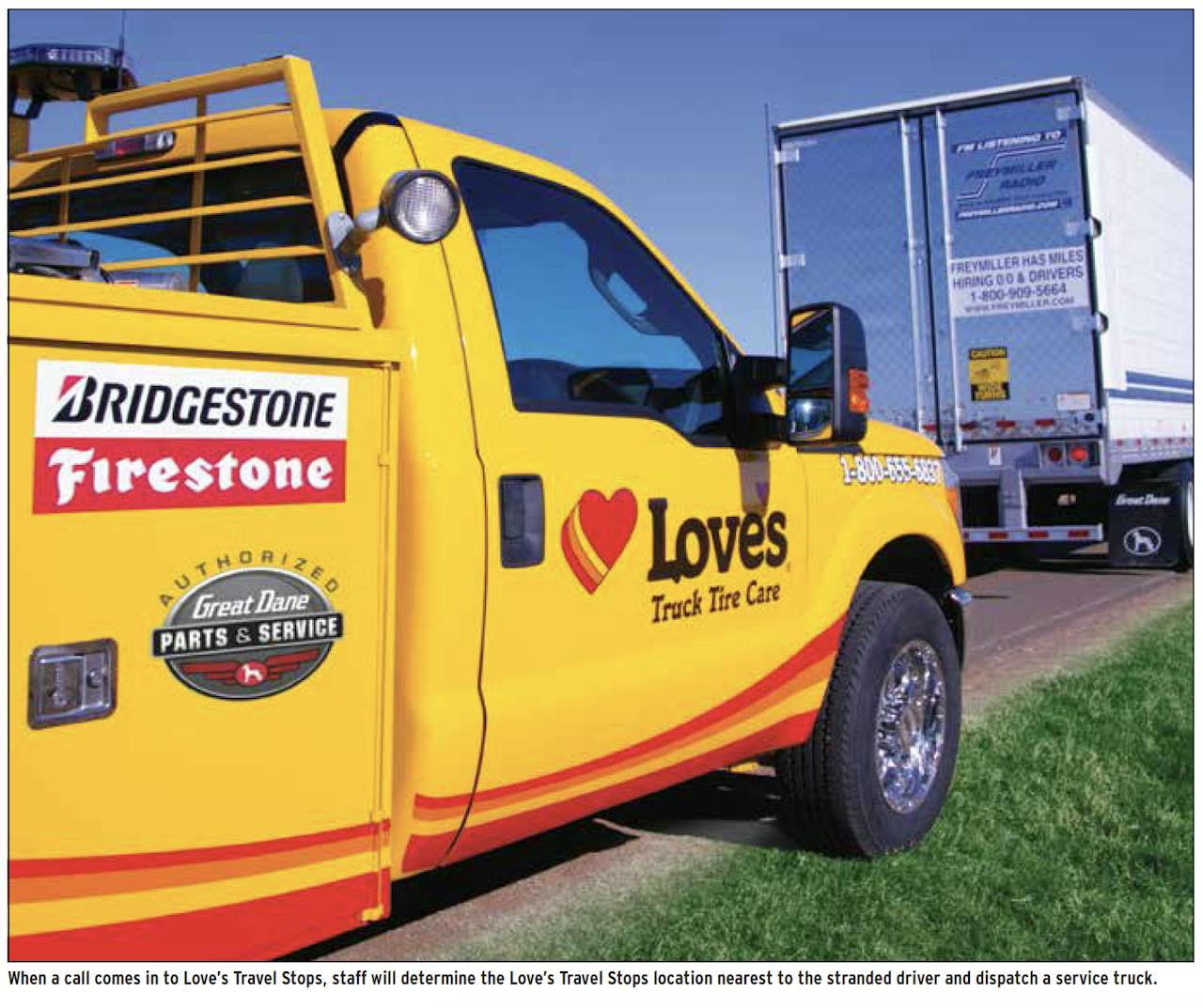 Conversely, "we have some who prefer to stay out on the road once they get out there," Kevin Murray laughs, referring to some of his technicians who prefer to work outside. He cautions, however, that "you can get burned out [on road calls] if you're not careful because there's that much work out there."
A service worth providing
Given all that's involved with offering roadside repairs, those who are in the business say aftermarket repair providers should consider adding it to its services.
Pat Murray says it's another way for a business to generate revenue, but service providers can't "pick and choose" when they go on a service call. "If you're going to promise 24/7 road service, you have to be committed to doing it," he says. Columbia Fleet Service charges a flat roadside service fee plus its standard labor rate.
Kyrish says profit margins are good because "it's expedited service, so customers typically don't have a problem paying a premium for it."
Managed Mobile's core business is onsite fleet maintenance and repair service, and customers on the company's Fleet Service Plan are guaranteed emergency roadside assistance. The company charges a two-hour minimum for labor versus a standard service call to a fleet's yard, and charges time and half on weekends and between 5 p.m. and 7 a.m. on weekdays.
"No matter how well we execute on our business model of scheduled maintenance, there's also a component with commercial trucks where things are going to happen," Rygalski says. "Drivers are going to run them out of fuel or things are going to break unexpectedly. There's no way to completely eliminate road calls, but our goal is to significantly minimize them."