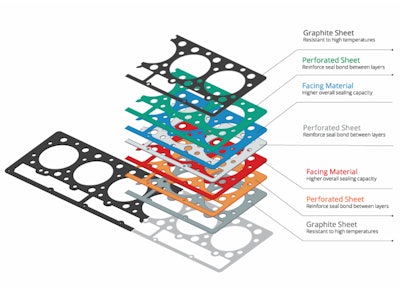 PAI Industries has released a new high-performance 7-layer cylinder head gasket for turbocharged diesel engines.
The company says the gasket uses graphite layers that present high sealing capabilities, and resistance to heat and most corrosive chemicals. A perforated steel core in between each layer ensures a secure overall bond and increases gasket strength. Additional internal graphite sheets also are installed to withstand extreme pressure, high and low temperatures, while maintaining flexibility without warping or deforming, the company says.
The gasket's flex graphite sheet is 0.50 mm thick, while the perforated steel is 0.15 mm thick and the cylinder head facing material is 0.35 mm thick.
PAI says the gasket is available with a three-year warranty.