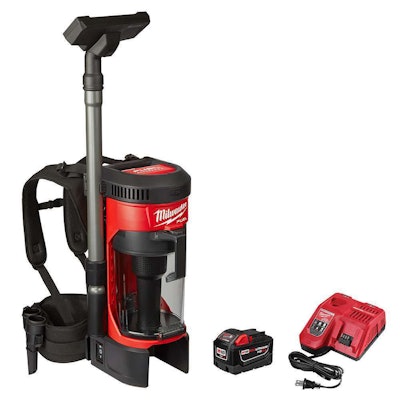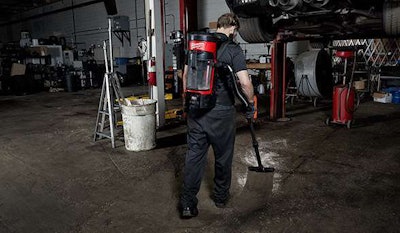 Milwaukee Tool is releasing its M18 FUEL 3-in-1 Backpack Vacuum. The vacuum contains a POWERSTATE brushless motor and cyclonic design to deliver powerful suction while remaining up to three times quieter than other job site vacuums, according to an announcement. The vacuum delivers air performance at 55 CFM, 76 in. of water lift and 159 air watts. A removeable harness, integrated hook and handle enable users to wear, hang and carry the vacuum.
"During our job site research, we found that users are still relying on bulky, cumbersome and corded vacuums to complete almost every clean-up task, regardless of the environment. In many situations, they are limited by the cord and sheer size of the vacuums, highlighting the need for a vacuum that has the versatility to go anywhere on the job site to clean up a wide range of materials quickly and efficiently," says David Mobarak, product manager for Milwaukee Tool. "This new solution combines our advanced cordless technology with an adaptable design, providing users with a vacuum that can tackle a wide array of clean-up tasks."
Powered by an M18 REDLITHIUM HD9.0 battery pack, the vacuum has a run-time of up to 25 minutes on High mode, and more than 40 minutes on Low.
Features of the M18 FUEL 3-in-1 Backpack Vacuum Kit (0885-21HD) include:
55 CFM
76 in. water lift
159 air watts
76 dB(A)
1-gallon capacity
Filter: HEPA
Telescoping extension wand: 25 in.-40 in.
Onboard accessory storage
Warranty: 5-year tool, 3-year battery