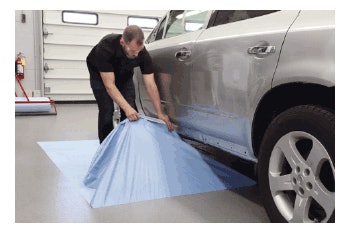 3M introduces Self-Stick Liquid Protection Fabric, a new product that provides automotive and heavy-duty repair shop owners a temporary, conformable surface covering that adheres to most surfaces, but removes easily and leaves no residue after the work is completed.
3M says its Self-Stick Liquid Protection Fabric replaces paper-and-tape or other surface coverings that frequently become soggy, slippery and leak to surrounding areas. By holding out fluids and trapping debris, the product allows for easy cleanup and removal of industrial contaminants. 3M states the low-tack adhesive backing keeps the material secure on smooth surfaces for improved traction. This may help to reduce the likelihood of slips and falls. In addition, it also protects surfaces from light impact and abrasions from tools and equipment.
"3M Self-Stick Liquid Protection Fabric provides an innovative liquid-proof layer of protection for paint mixing rooms, floors, tables and other critical shop areas," says Dave Gunderson, vice president and general manager for 3M Automotive Aftermarket Division. "It is an effective and affordable way to improve efficiency and cleanliness while reducing rework and equipment downtime."
A key feature of 3M Self-Stick Liquid Protection Fabric is its non-woven surface, which traps contaminants rather than just allowing them to land, the company says. This keeps them from spreading around due to sweeping or foot traffic, and keeps particles out of work spaces, off of the work itself and out of sensitive machinery that needs to be disassembled and cleaned.
The 3M Self-Stick Liquid Protection Fabric is available in 300 ft. rolls in widths of four, six, 14, 28, 36, 48 and 56 in. Available magnetic dispenser and wall and floor applicators make applying the material fast and simple, the company adds.