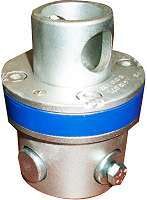 Ancra Cargo has announced a product enhancement to the OverDrive Ratchet Cap, providing an improved ratcheting mechanism resulting in a seamless overall experience, according to the company.
The OverDrive Ratchet Cap has been re-engineered to feature the enhanced ratcheting mechanism employed by all Ancra ratchet winches. From a user's perspective, there is no change in operation or the way it is installed onto a standard winch. The patented design features rotating pawls for the ratcheting mechanism that has been in use for the last three years in all our ratchet winches.
Benefits of the OverDrive Ratchet Cap include an easy access grease fitting for maintaining effortless function and ease of installation onto most standard winches using the hardware provided, the company states. The outside shape has been changed to accommodate the modified ratchet mechanism while maintaining a total weight of 3.5 lb.
The patented design includes internal seals to keep out moisture and road grime so there is no longer an outer rubber sleeve needed. The rubber sleeve on older models can deteriorate over time and require replacement; this problem is eliminated with the new OverDrive Ratchet Cap. The ratchet winch operation reduces the tensioning time by 33 percent as well as the risk of winch bar rollover. Once the winch bar tip is inserted into the winch cap, the winch can be fully tensioned without the need to repetitively remove and reposition the winch bar.