The following comes from the February 2019 issue of Truck Parts & Service. To read a digital version of the magazine, please click the image below.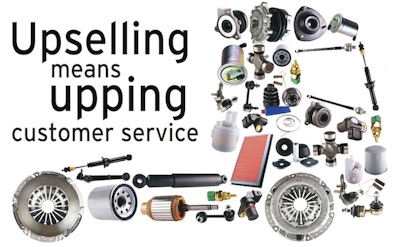 Everyone has been exposed to upselling. It could be in the form of an offer to super-size a fast food meal, purchase a protection plan for electronics or even add extra butter on popcorn.
Though the term "upselling" has developed a bit of a negative connotation and might be considered an annoyance for shoppers in certain circumstances, such is not the case in the aftermarket community.
The reality is many aftermarket parts providers encourage their staffs to suggest additional parts or higher quality parts. Not only can upselling improve sales, but it also is a way to make sure customers have everything they need to complete a job and be happy with the quality of the parts they purchased.
"Customers are willing to accept professional suggestions. Our inside and outside sales staff have years of experience and we feel good about helping the customer make the right decisions. They trust us," says Randy Kray, sales manager, Sadler Power Train.
Being an aftermarket parts provider is very service oriented, and the upselling aspect of the business is part of it, says Nick Seidel, Action Truck Parts vice president. "It's [parts] you need to offer your customers and parts customers might not have thought about," he adds.
"The key to being a successful distributor is understanding your customers' needs. A customer who runs long haul over the highway has a completely different need than a customer who has a truck that's 20 years old and just needs to get it through an inspection," says Tina Hubbard, vice president, marketing and product management, HDA Truck Pride.
Hubbard says determining the additional parts or quality of parts customers might need is as simple as asking basic questions about how they use the truck and providing assistance by suggesting, "If it were my vehicle, I would do this." She also suggests "presenting options in a simple manner to help them make a choice; for example, this part has a 12-month warranty and this part as a 5-year warranty."
Good, better, best
"I tend to look at upselling as a customer buying a certain level of product and you're trying to convince him the value of buying a product that's a better grade," says Dave Willis, CEO and president, CRW Parts.
Willis says it is critical sales associates know the features and benefits of the products they are selling and are knowledgeable about competing products. Staff must also make sure when customers are making a decision, they are comparing apples to apples. A customer might be attracted to the top of the line of a competing brand's product, but it still might be inferior to a mid-tier part CRW offers.
Employees also must be able to convey to customers that opting for a lesser quality product based on price might save them money on the initial purchase, but it ultimately "will cost them more in the long run because, for example, they have to do two brake jobs in a year instead of one. And, that's time a truck is off the road," Willis warns.
With certain products, Action Truck Parts offers double and triple lines so customers can choose from different levels of quality and price. However, the company will not stock certain parts because they flat out don't pass muster, Seidel says. "We're the quality guys. We're not the cheapest guys on the block."
Seidel says his employees will always start with the middle-of-the-road parts and try to upsell to the best versus starting at the bottom and trying to upsell two levels. "If the guy says this middle-of-the-road part is too much, we'll tell him we don't want to lose his business and we do have a cheaper option; but from experience and our knowledge of the product we're selling, we'd rather you buy a better product," he says.
But, as with any industry, "You're going to have a guy that's focused on price and that's what he wants to buy regardless of the quality of the manufacturing and how long it's going to last," Seidel adds.
Do you also need this?
In addition to suggesting better quality parts, another form of upselling — and customer service — is suggesting additional parts to ensure customers don't leave the store without having everything they need to properly complete a job.
"The key to [upselling] starts with building trust with the customer," says Brian Trombley, vice president of parts, Royal Truck and Trailer. If a Royal representative suggests additional items for the job a customer is performing, they should understand "we are doing so as an advocate for them with the best of intentions. We are only trying to make sure their repair goes as smoothly as possible."
However, Trombley cautions: "The more items you try to upsell, the less the customer will trust that you are advocating for them as opposed to trying to sell them unnecessary items."
Willis says adding product to a sale is common sense. For example, if a customer is preparing to do a brake job, but is only ordering the drum and shoe, "you have to tell them, 'You're hurting the life of the brake shoe and the drum if you're not replacing other parts of a brake job with new parts.'
"I guarantee you don't get what you don't ask for," he says regarding additional parts. "You will lose that sale 100 percent of the time if you don't suggest it."
Hubbard adds, "When you talk about completing a sale or selling a kit … knowing your customer and properly presenting an entire package is important."
Kray cites several scenarios regard-ing what customers might come in to buy and what Sadler Power Train staff would suggest adding to the purchase. For instance, wheel end service should include a conversation about cams, bushings, hardware and wheel attaching parts; lube should be mentioned during sales of transmissions and differentials; steering service should include hoses, clamps and new fluid; and the sale of springs needs to include U-bolts and possibly spring pins and attaching parts.
Action Truck Parts has spent a lot of time adding notations that are included when products are called up on the company's computer system. For example, if a customer wants to buy shocks for a certain year, make and model, parts that go with them will appear in the notes section on the screen.
"My employees are going to tell the customer he probably doesn't want to put the old bolts on because they wear out just like the shocks and he's going to want to put on new bolts, washers and nuts. That information is in the notes section for us to upsell, but it also creates a one-stop shop for our customers," Seidel says.
"There are so many opportunities. I've walked into some places and they don't try to upsell you anything; they're just happy for you to walk through the door," Seidel says. "They don't understand those added products usually have a higher gross profit than the part the customer walked in there for."
Training to upsell
Learning and listening are the buzz words for training employees on how to upsell — learning about the products they offer and listening to customers about what they need, according to after-market experts.
"You have to train employees on the product and the complementary parts that go with that product. If you don't know that Product A goes with Product B, you're never going to add much. If you know product A and product B go together, then you should know product C is a complementary part," Willis says. "If a customer is ordering ratchet straps, staff can ask about the equipment for the straps and if he needs any tie-downs. It's education."
But it's not just educating employees, it's also educating the customer. "It's a lot easier to upsell when you educate your customers on what they're getting or what they're not getting and what that can lead to down the road," he says.
Royal Truck and Trailer has vendors come in on a regular basis to conduct product training and the company encourages employees to cross-train with its service department to gain more mechanical knowledge of the products they are selling.
"The better informed and trained our sales staff is about the products, the more confidently they can speak of their benefits to the customer. Having confidence in what you are selling is key to being able to sell it successfully," says Trombley.
Kray says the company specializes in powertrains, which is a business a lot of people don't understand. However, Sadler Power Train uses all available resources if the staff needs support conveying information to customers, whether it's experts within the company, online tools provided by suppliers or direct contact with product engineers. "VIPAR Heavy Duty has been very instrumental in helping us obtain these resources," he adds.
"We emphasize to our sales staff to be good listeners and to encourage customers to interact with us to determine the best course of action to solve their needs," Kray says. "Possible phrases like, 'Feel free to take a look at this and give me your thoughts' or 'Consider this' are subtle ways of getting customers' attention and gaining trust."
In addition to bringing in manufacturers and vendors on a regular basis to educate staff on parts and products, Action Truck Parts also holds "product nights" for a group of customers or fleet. "I expect my guys to be there to learn about the products as well. You can't do enough training," Seidel says.
Willis says any good sales company is always looking to add items to an order and customers will appreciate it if employees explain to them how the additional parts and products will help them be more efficient and ultimately save money.
Willis adds he knows his company is building trust and providing superior service when his employees "can tell a customer, 'You need this product,' and the customer says, 'You've never steered me wrong. I'll take it.'"