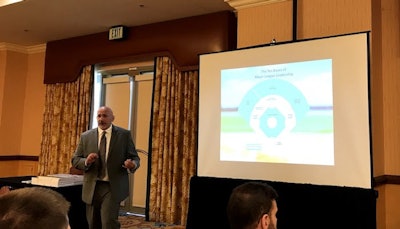 While good leadership comes in many forms, most leadership qualities are universal. At least that's what Dr. Howard Fero learned while interviewing 19 Major League Baseball managers for his book "Lead Me Out to the Ballgame."
Speaking Tuesday during the Young Leaders Forum luncheon at the 2019 VIPAR Heavy Duty IMPACT Conference in San Antonio, Fero shared the insights he compiled for his book and how he's learned whether you're leading from a dugout, office chair or even a parts warehouse, the tenets of successful leadership are always the same.
In analyzing what he learned in the baseball community, Fero says most leadership traits fall into one of three categories: leading oneself, leading others and leading the game (or business). He says the first section are traits MLB managers must display to earn the respect and confidence from their players; the second section defines the required skills to motivate and encourage players to maximize their potential while the last category refers to a manager's aptitude and their ability to make the right decisions during a game or season to lead their team toward their ultimate goal.
Fero further breaks down the three categories as follows:
Leading yourself
Find your passion: Good leaders enjoy what they do. They like coming to work every day and are motivated by the challenges of the work. Fero says players (or employees) can tell when a leader loses interest in their work, and when leadership loses focus its not uncommon to see employees due the same.
Lead by example: Leaders who want their employees to show up ten minutes early to all meetings need to be willing to do the same. Fero says MLB managers work hard to be consistent in their actions and committed to winning the present day's game because it shows players where their focus needs to be.
Earn respect: Anyone thrust into a position of leadership may initially be able to earn or command respect due to their role. But after a while that fades, Fero says. He says MLB managers work hard to earn the trust and respect of their players every day.
Leading others
Know your people: On this note, Fero says leaders must be aware of how employees from different backgrounds may have different priorities. Younger employees may expect different communication methods than older ones; veteran ballplayers may want or expect more autonomy than fill-in rookies.
Cultivate relationships: Employees want to know their bosses and leaders care about them. Fero says he spoke with several MLB managers and players who each mentioned how important it was to them that they were able to have engaging personal conversations with their counterparts on a regular basis.
Support your people: Ballplayers want their manager to always have their back. Fero says employees want similar reassurance. He also adds that its important for leaders to tell their employees they'll stand behind them, because when that support isn't shown an employee may doubt it exists.
Communicate effectively: Employees need to know what they do well, where they can improve and what their expectations are. Fero acknowledges this is a tough job but it is required for a company to meet its goal. He says a player who isn't going to start needs to know why, and how they can thrive in a reserve role.
Leading the game
Know your game: A good leader has to know their business. Fero says many MLB managers are former players who bring their playing experience and expertise into their work. He says business leaders must be equally informed. Employees will second guess and doubt a leader who doesn't appear knowledgeable.
Foster teamwork: It takes at least nine players to win a baseball game. It likely takes as many or more to run a successful aftermarket business. Fero says leaders who motivate employees to work together and hold each other accountable for their performance are likely to be successful.
Create a winning culture: Work can be fun and enjoyable. Fero says managers told him ballplayers play better when they are loose and unburdened by previous mistakes or losses. He says the same idea works in business. Leaders should work to create an environment where employees can be at their best.