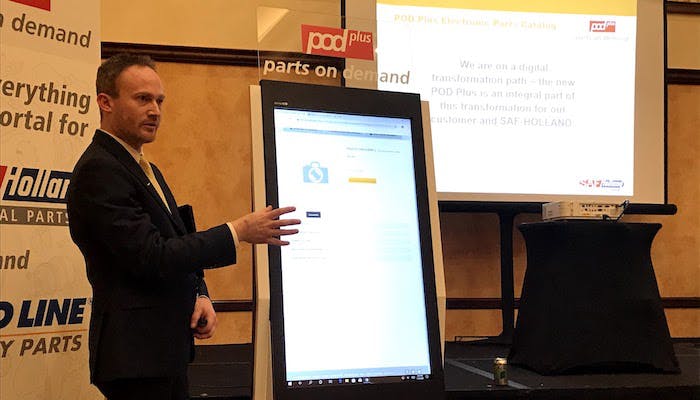 SAF-Holland took the next step on its corporate path to digitization by relaunching its Aftermarket Parts on Demand (POD) electronic parts catalog, rebranded as POD Plus, Sunday at Heavy Duty Aftermarket Week (HDAW) 2020 in Grapevine, Texas.
SAF-Holland Vice President of Sales Carl Mesker says POD Plus is the product of 18 months of intense internal development and customer engagement discussions. Mesker says the new system was built specifically to address the needs and challenges of its distributor base and will improve ordering, reduce product confusion and increase both distributor and end user customers satisfaction.
"The new POD Plus site offers an enhanced and truly amazing customer experience. This enhanced customer experience allows entry level parts staff along with senior parts veterans like me to easily and quickly identify the SAF-Holland parts needed to help a fleet get its equipment back on the road fast," he says.
Mesker says POD Plus works by connecting directly with the SAF-Holland business system and enables them in real time to view inventory, system order entry, and customer specific pricing. Additionally, because the site is fast, easy to navigate and intuitive by design, Mesker says all users should be able to get up to speed on how it works in minutes without needing any formal training.
In addition to real time inventory and order entry information, other key features of POD Plus include: order history (Including all orders placed online or through customer service reps); invoice history (Including all orders placed online or through customer service reps); customer specific and scale pricing; serial number search; and mobile device capability.
The platform also includes product attributes and provides online shopping filters to be used during navigation, offers important replacement or obsolete information to customers and provides a list of service kits in relation to individual components. Mesker uses a simple washer as an example, stating once that component is found in POD Plus, all related product kits and service information is immediately available the customer's fingertips.
"As SAF-Holland continues its digital transformation, we see a great opportunity to enhance our current POD platform, enabling us to better meet the requirements of our customers," says Mesker. "Data shows that e-commerce solutions have grown significantly since the initial launch of POD in 2015. We recognize this trend, and plan to keep current to ensure we are exceeding customer requirements. This is increasingly important when taking into consideration the work environment expectations of the upcoming digital generation."
Mesker says POD Plus will enter a brief trial phase next month and should be available to the company's entire distribution channel in the second quarter. Additional features such as automatic order tracking and delivery updates will follow soon after, hopefully in Q3.
Says SAF-Holland Aftermarket Brand Manager Bryan Thorwall, "[POD Plus] has made our distributor partners' online experience more user friendly, thoroughly informative, and conveniently quick."