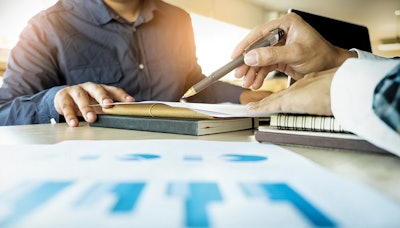 Last week's announcement that Congress had reached a deal to allocate more funds to the Paycheck Protection Program (PPP) coronavirus relief fund was welcome news for small businesses nationwide. With so many companies still desperately in need of assistance and the Small Business Administration (SBA) immediately reopening the loan program Monday, the race is on for companies in all industries to reapply for the $310 billion now available.
In trucking's dealer and aftermarket channels, where parts and equipment sales are falling across the board — but only 26 percent of Trucks, Parts, Service reader survey responders have been approved for federal aid — loan applications submitted this week could have an impact on the stability of the channels for years to come.
According to those who just completed the SBA loan process and had success, now is the time for action. The SBA loan process can be navigated but it can't be done passively. Dealers and aftermarket business leaders desperate for financial support must act, working aggressively with their accounting and finance departments and banking partners to complete the loan application as quickly as possible.
"I think if you take the approach that you're going to give this job to somebody and they are going to take it and run with it, I don't think that's the right process to take," says Michael Thiers, owner, Linehaul Heavy Duty, a parts, service and used truck sales facility in Cincinnati. "The loan [application] process really doesn't take that long, but you can't take your time either. You need to work with your banker to get them everything they need."
Thiers says he contacted his banking partner as soon as PPP was announced to better understand his company's eligibility under the loan program and how to apply. He says he was fortunate, due to a strong working relationship with his lender, the bank already had most of the information required of Linehaul to complete the application.
Roberto Garcia had a similar experience with his local bank when seeking to apply for his company, Trucknation.
"I think we were fortunate because our accounting was up to date. Everything [the bank] asked for we were quickly able to provide," says Garcia, owner and president at the Houston-based used truck sales, parts and service facility. Garcia says the SBA loan isn't unnecessarily complex — most of the required fields are tax documentation and payroll information — but businesses that don't regularly track and update that information likely will have issues attempting to apply for a loan this week.
Fortunately, there are a lot of banks stepping up their customer service to assist clients with their applications.
Darren Barnes, president, Crump Truck & Trailer Works, says his bank reached out to him about the PPP program before funds were available. Under the guidelines of the PPP, only lenders participating in the SBA's 7(a) loan program are eligible to process PPP loans. Barnes says knowing his bank was approved for the program and understood how it would work helped the Springfield, Mo.-based parts and service enterprise complete its application on the first day.
"They sent us an email saying, 'This is coming and if you want to be in on it you have to have everything ready by Friday.' We got our information back to them Thursday," he says. "[The bank] figured the program would run out of money before it ran out of applicants. They wanted us to have a chance."
First Call Truck Parts President Joe Ward says his credit union did the same. Thanks to a more than decade long relationship with his lender in Tallahassee, Fla., Ward says his bank was able to compile most of the information required for First Call's loan application from its own records and provided clear guidelines for the other information required from the business.
He says with the credit union's simple instructions, First Call's payroll software was able to generate a single spreadsheet with the data necessary to submit the application.
"It was literally one piece of paper," he says. "That made it incredibly easy."
But despite their positive experiences, the business leaders realize they were fortunate.
"I think dealing with a small bank was a big thing for us," says Ward. "They knew who we were, they knew we were a legit company and they had access to most of our financials. That was our starting point."
"You need to get your application in quick. You don't have time to sit down and work through it," adds Barnes, with Garcia noting any business using automated payroll and business system software likely has a leg up in the application process because of the speed in which an application can be completed.
Additionally, Thiers says when a bank provides instruction it should be quickly followed and when questions arise, they should be immediately asked. "The squeaky wheel gets the attention," he says.