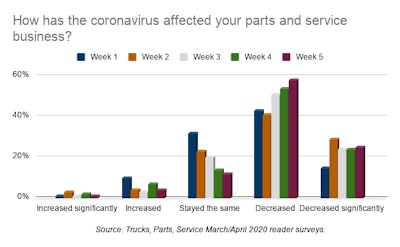 Market conditions in the aftermarket and dealer channels didn't change much this week according to responders of the Trucks, Parts, Service weekly reader survey on business conditions, but responders are beginning to express optimism that better days are ahead for the industry as the calendar shifts into May.
For the second consecutive week more than half of survey responders stated they expect their parts and service sales to increase (14 percent) or stay the same (43 percent) over the next month while the same amount compared to the prior week (10 percent) are expecting business to "decrease significantly" in the month ahead.
Even though current conditions remain poor — 83 percent of responders have seen their parts and service sales fall since the onset of coronavirus — TPS responders believe the aftermarket is inching closer to an upswing.
"Businesses are opening up next week," said one responder, referring to a number of states that ended or relaxed their stay at home orders on May 1. Another responder noted their daily sales grew by nearly 4 percent this week, a minimal jump in normal times but an encouraging sign after so many weeks of negativity.
When asked to rank business conditions this week on a 1 to 10 scale, (with 1 being the worst week ever and 10 being the best), TPS responders said the week averaged a 4.10. That number happened to be the lowest single week rating since the TPS weekly survey began, but it also was followed by the largest positive jumps in predicting the week (4.45) and month (5.01) ahead. The latter in particular is notable because it is the first time TPS responders have predicted the month ahead to perform above a 5.
Responders again referenced the slow opening of the country and non-essential businesses as the foundation of their relative optimism. No one in the market is anticipating a great May — six percent of responders are expecting their worst month ever; 0 percent are predicting their best month — but after the horrors of March and April just a down month could be constituted as a success.
"Things always fall or go negative faster than they move positive," said one responder. Added another, "It depends on the American consumer and how quickly the retailers can get back to work."
Life in the new and used equipment space also stabilized this week. After 91 percent of TPS responders reported decreases to their new truck business last week only 86 percent claimed to be down this week. Those same responders also showed encouragement for the week and month ahead, with 10 percent expecting business to rise and 40 percent predicting stability instead of further slippage. New trailer dealers responded almost identically to their truck counterparts, with 80 percent noting business is down and half expecting business to stay the same during May.
Maybe the most optimistic group in this week's survey were used truck dealers. Nearly 75 percent of used truck dealers reported their sales have fallen since the pandemic began but only 33 percent expect sales to continue falling in the month ahead. More actually expected business to increase (10 percent) or stay the same (50 percent).
One responder said his company's unit sold numbers didn't change this week but its truck sales staff is fielding many more inquiries. Another responder said if business is forced to come back slowly, "there is a good chance people will continue to fix their old equipment rather than buy new."
But even if 2020 becomes the year no new trucks are sold survey responders acknowledge there will still be challenges for used truck dealers and parts and service operations. Asked to rank the impact COVID-19 is likely to have on truck maintenance over the next year on a 1 to 10 scale (with 1 being the minimal impact and 10 being significant impact), survey responders averaged a 5.99 score.
"The way we do day-to-day business" has changed, said one responder. Another mentioned concerns about parts availability, "I believe that parts supplies will be slowing as supply and demand balance out. We've been told by our tire supplier that soon there will be a tire shortage. So, get them while you can."
There's also concern about what customers are left when the economy formally reopens. Among survey responders, opinions are mixed. Several mention the likelihood of more last-mile delivery, which offers more opportunities for aftermarket and dealers located in urban areas, while others note both fleets and their supplier partners serving non-essential industries may be forced to reposition their businesses if they can survive the current crisis.
"I think those who are not dealing with essential services will get heavily involved in them to secure their business in preparation of this happening again," a responder said.
This week's survey highlighted the unfortunate reality that not every business in trucking will survive COVID-19. The number of TPS survey responders who applied for and received PPP funds rose this week from 26 to 37 percent, but 21 percent of responders are still waiting to hear if they will receive assistance. Additionally, 4 percent were turned down.
One survey responder said the funds have been a "life saver." Another said due to poor instruction from the federal government for LLC operations, the "day they provided the guidelines to the bank was the day they also ran out of money!"
Responders say the dealer and aftermarket channels are going to look quite a bit different in the coming years.
"Under-capitalized businesses will fail, and those with deep pockets to last out this deep economic downturn will take more market share," predicted one responder. Another noted, "Smaller companies will not remain in business. The industry as a whole needs to gauge/analyze/share any and all details that may benefit the industry in the future to be able to have more knowledge as how to possibly cope with such a disaster."