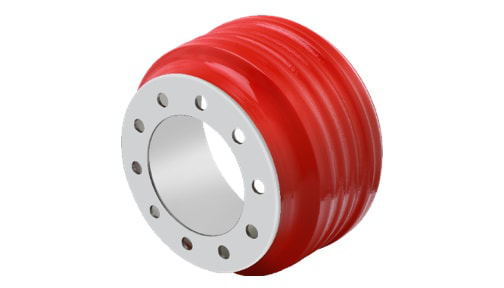 Webb Wheel Products introduces its new Steel Shell brake drum product line.
This addition to the company's current variety of cast brake drums gives fleets the option to purchase a lightweight steel shell brake drum from a proven industry leader in wheel end products, Webb Wheel says.
The lighter, stronger design features a one-piece outer shell with a fused cast iron brake liner. Steel shell brake drums are on average 15 percent lighter than comparable cast brake drums, thus allowing for increased payloads, the company says. Additionally, Webb says its steel shell brake drums are backed by their nationwide warranty and unmatched product support that fleets have come to trust. Currently, Webb offers three options for a 16.5 in. by 7 in.application and will release five more by year's end.
The company says parts available July 2020:
96864B – 16.5 in. by 7 in., 10 Hole, 8.78 in. pilot diameter
96875B – 16.5 in. by 7 in., 8 Hole, 9.00 in. pilot diameter
96893B – 16.5 in. by 7 in., 10 Hole, 8.53 in. pilot diameter
Parts available August through December will include
96854B – 16.5 in. by 8.62 in., 10 Hole, 8.78 in. pilot diameter
96800B – 16.5 in. by 8.00 in., 10 Hole, 8.78 in. pilot diameter
95151B – 16.5 in. by 5.00 in., 10 Hole, 8.78 in. pilot diameter
95710B – 16.5 in. by 5.00 in., 10 Hole, 8.78 in. pilot diameter
95548B – 15.00 in. by 4.00 in., 10 Hole, 8.78 in. pilot diameter