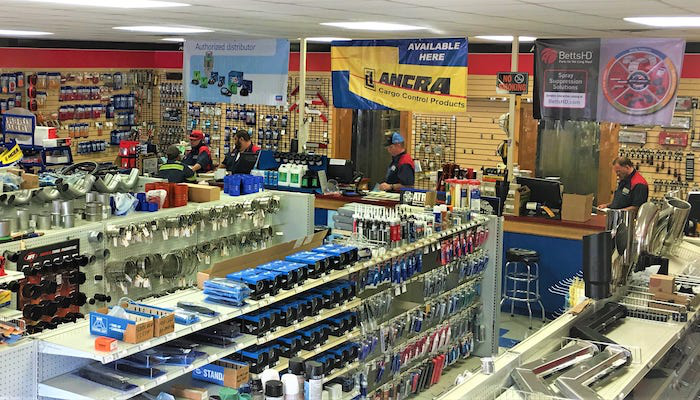 Aftermarket distributors and dealers can be so focused on getting a part for a customer or performing service to get a truck back on the road that one aspect of the business can be overlooked.
That one aspect is retail and, in particular, the role impulse items can play.
Granted, the sales lift from well-placed impulse items will pale by comparison with the revenue brought in from the sale of heavy-duty truck parts and service, but attention to the impulse category goes beyond just the sale of the product.
In addition to the customer buying something he might not initially have intended to, impulse items usually have a higher profit margin, can be a complementary sale to another part and help make distributors and dealers a one-stop shop for their customers.
And though it's tough to prioritize impulse buys now in an era of social distancing and reduced customer access, understanding the concept of impulse purchasing will once again be essential in a post-COVID world.
Thinking outside the box
Impulse items aren't limited to smaller items such as work gloves, tire gauges and air fresheners, nor are they relegated to the parts counter near the register. Impulse buys can be small or large and be placed anywhere in the parts showroom.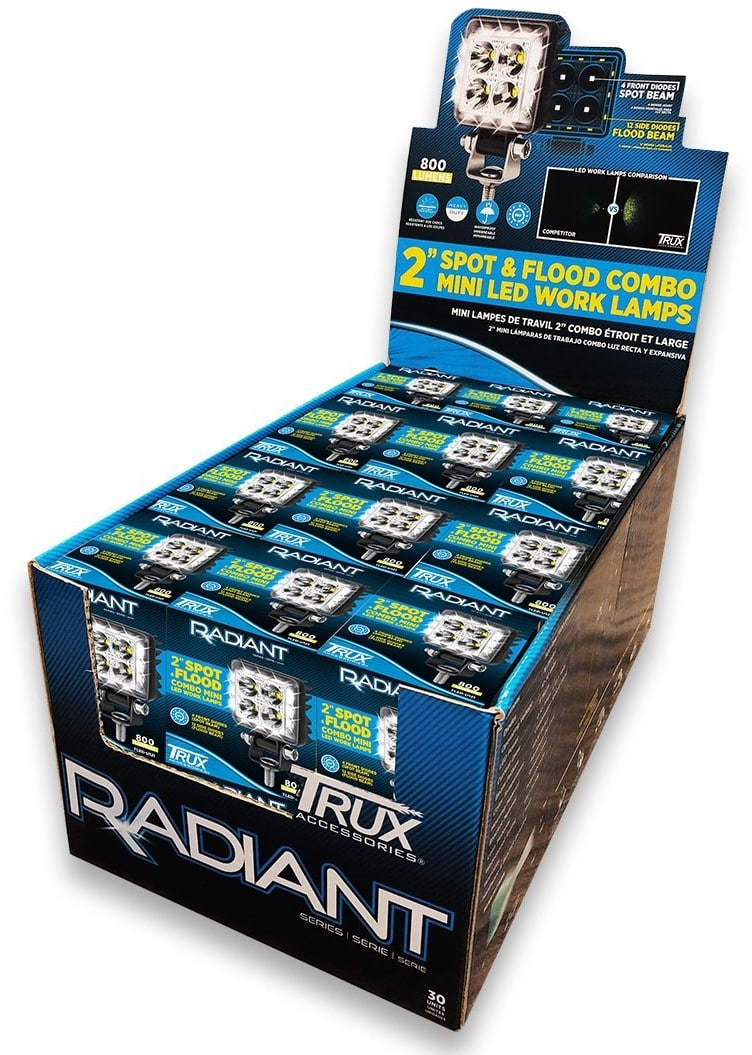 Mike Selick, director of sales, Trux Accessories, says a good impulse item is something that has a universal fit or application. "You don't want a customer to come in and you have something in your showroom geared toward only a Volvo driver," Selick says.
"As far as Minimizer is concerned, we don't have small knickknack items," says Director of Marketing Steve Hansen. "But I consider our custom-molded floor mats, for instance, to be an impulse buy, where maybe they came in looking for something else but they saw one of our point-of-purchase displays or saw our floor mats on the showroom floor."
Sean Mayfield, parts manager, Texas Trucks Direct, says, "Guys will walk by the shelves, see something and say, 'Oh I need that.' Like gladhand seals. That's something no one thinks about until they have a problem. We keep them where they're easy to see and we carry a few different versions."
Mayfield acknowledges the sales floor can take a chunk out of a location's overall square footage, which could instead be used for inventory or a larger service area. "If people have the square footage to [use for impulse items], I certainly would. I think it's a net positive."
For Weldon Parts, the hottest selling impulse items are LED work lights, says Vice President Daryle Settles. "Seems like every month somebody comes out with a new version of a LED work light in a different size, configuration or brightness," he adds.
An impulse item doesn't even have to be a truck part, says Hansen, recalling a presentation he attended during a past Heavy Duty Aftermarket Week.
"You don't have to sell lug nuts and things like that as your only impulse buys," Hansen says. Customers get "thirsty and hungry like anyone else, so there's no reason why [shops] can't have bottled water and beef jerky as high-margin impulse buys."
Putting on a display
Presentation pays dividends and getting a customer's attention is an important part of selling impulse items.
Texas Trucks Direct has a wall 45 ft. long and 8 ft. high "full of nothing but lights," Mayfield says. The distributor also displays suppliers' banners near the parts counter to attract customer attention.
"We'll rotate those banners every month. It's easier to remember a logo than a business name," Mayfield says. For example, the black, white and red logo will be more recognizable to customers than the name Delco Remy, he adds.
Selick agrees presentation will help parts providers more effectively sell impulse items and urges them to work with suppliers on various sales displays. He says he has walked into parts showrooms numerous times to find a pallet of antifreeze in the middle of the floor. He suggests something a little more attention grabbing.
For example, with bigger, boxed items, arrange them in a pyramid on the floor. With smaller components, place them in a customer's line of sight. "We have a box of work lights that come in a 30-pack that you stick on the counter so when the customer is waiting to pay … he's looking at this mini work light on the counter next to the [register]," Selick says.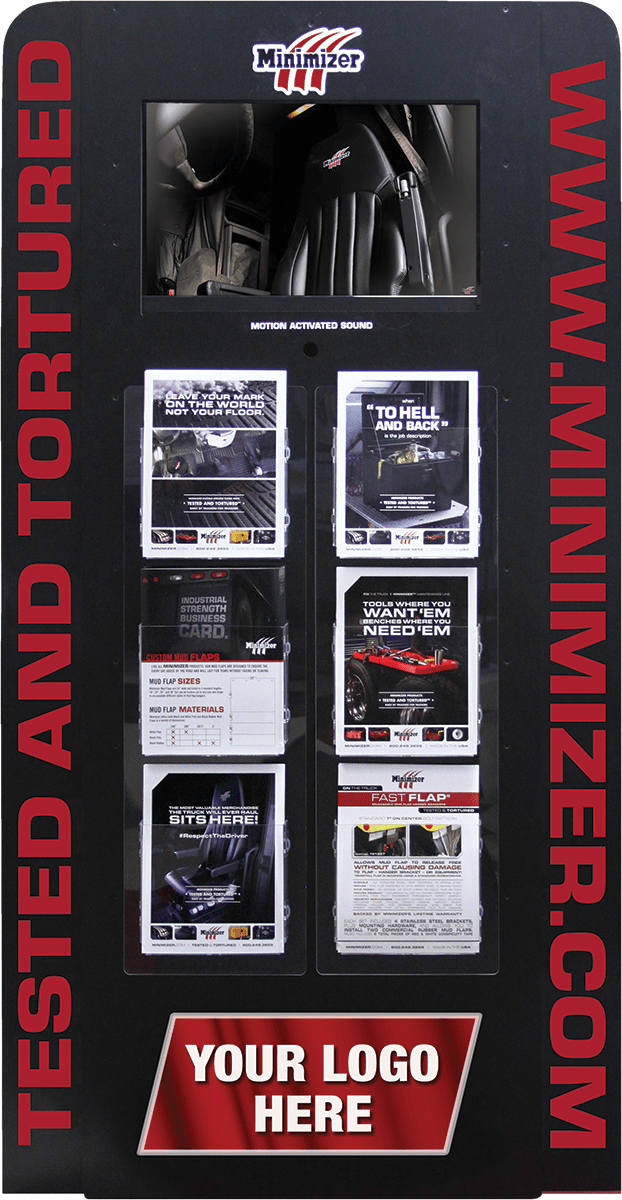 Minimizer offers a branded floor-standing kiosk with a monitor and space for product flyers. The monitor is connected to the distributor's Wi-Fi, enabling Minimizer to remotely update the videos to highlight a new product or promotion.
"It's unique and, being that it's all digital, it's cool," Hansen says, adding that approximately 200 kiosks are at distributor locations.
"I hear from distributors that we're constantly driving customers to the parts counter, saying, 'Hey, I need a quote on these floor mats,' or 'I just watched a video back there and I'm interested in this toolbox,'" he says.
In addition to presentation and displays, periodically rearranging the parts showroom will help sell impulse items.
Parts providers "need to pick out key, high-traffic areas and always be pushing new promotions and new products so they keep rotating visibility on the different product lines they have," Hansen says.
Mayfield agrees. "We try to move at least one section a month and every year we rearrange the whole front end. It keeps the showroom fresh in customers' eyes," he says.
Impulse challenges
Without question, there are forces working against the sale of impulse items. Parts orders increasingly being made by phone or online, along with the aforementioned coronavirus pandemic, has had an effect on foot traffic in parts showrooms of distributors and dealers.
"Most of our business is over the phone or the computer and we're delivering the parts with the sales rep or our own delivery trucks. We don't get near the walk-in customers we used to," says John Meuwissen, director of parts sales, Allstate Peterbilt Group.
What's more, he says, "Truck stops have gotten more into those types of items, which maybe has taken away from us."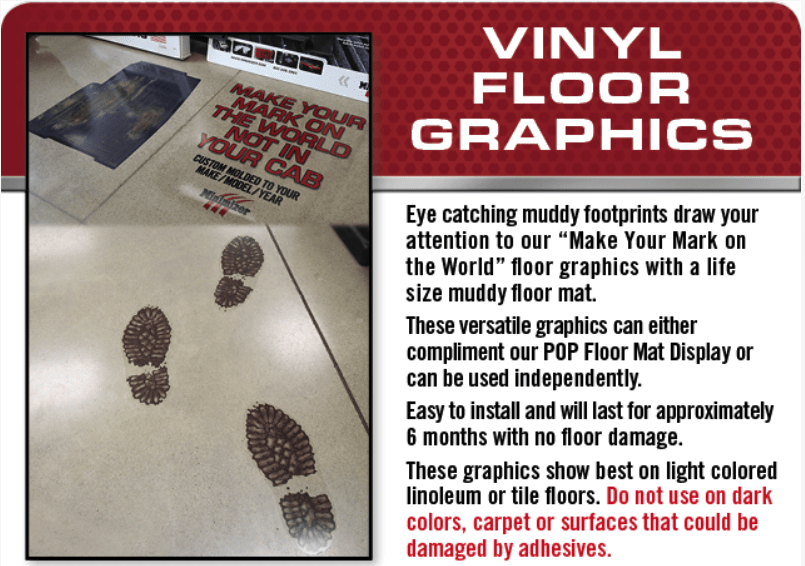 Roger Gibney, sales manager, Allstate Peterbilt Group, adds, "People at a dealership are there for a specific reason and it's usually to get something done and get back on the road. When you're at a truck stop, if you're timed out and you're spending the night or a few hours, you're killing time and more apt to impulse shop than you might be at a dealership."
Hansen says promoting impulse buys when customers call for parts could be a challenge unless parts providers employ a "Do you want fries with that?" approach. However, he says, employees can be trained to mention other parts customers might also be interested in buying.
Although fewer customers might be walking into parts departments, Selick says e-commerce platforms can display pop-up ads while the customer is shopping online. "You might be buying nut covers and the advanced e-commerce site will know with the nut covers most people will buy a shiny hub cap," he says.
Selick suggests parts providers discuss with their vendors complementary parts to offer online customers. "What cool item should go with the vanilla item?" he adds.