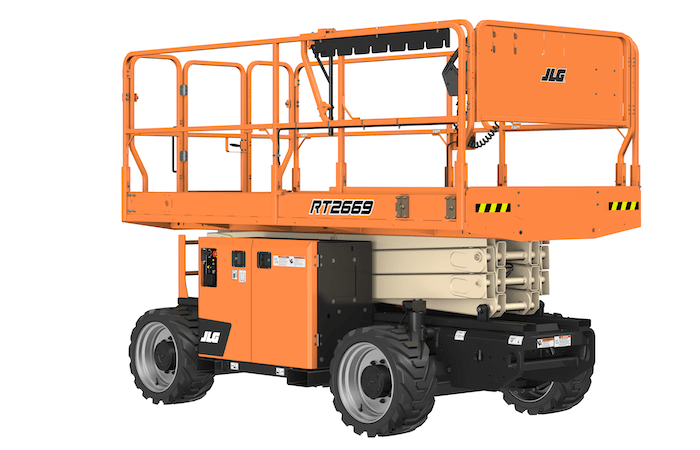 JLG Industries announced Thursday the first models in its new generation of rough-terrain (RT) and electric rough-terrain (ERT) scissor lifts are now available.
The 26-ft., 69-in. wide 2669 model and the 33-ft., 69-in. wide 3369 model are the first to market and come in diesel engine or battery powered AC electric drive models, the company says, and are completely reengineered with many new features and technology that deliver enhanced versatility, greater productivity and intuitive data for improved performance on the job.
JLG says the platform on these new rough terrain lifts deliver 28 percent more work area, class-leading capacity, and a zero-platform offset, allowing users to get closer to the work area while bringing more people, tools and material to height. And when it comes to height, JLG says the units have full drive at height capability both indoors and out. This allows the lifts to operate along the length of a building at a fixed height, eliminating the need to ascend then descend as work is being performed for improved efficiency and productivity.
"Our new line of rough-terrain scissors are purpose-built with the intent of minimizing or eliminating common job site pain points," says Rafael Nuñez, senior product manager, scissor and vertical lifts, JLG. "Our brand new and expanded rough-terrain offering is targeted at improving productivity indoors and outdoors. Instead of simply making the changes that were needed for compliance under the recently published ANSI standards, JLG engaged with customers around the world to better understand their needs, then looked at market trends such as urbanization before deciding that a from-the-ground-up approach was required."
In addition to the 26- and 33-ft models now available, JLG says 40- and 47-ft. models are planned for release in the coming months.