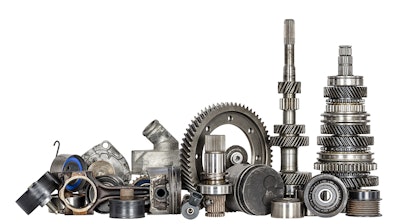 JIT Truck Parts announced it is launching the complete line of Dayco engine parts online. JIT Truck Parts' expansion of Dayco engine parts are designed for the heavy-duty industry servicing semi-trucks, buses and other large commercial vehicles.
Dayco heavy-duty truck parts come with a 24-month/150,000-mile warranty to give customers peace of mind that they are receiving reliable engine components for their on-and-off highway vehicles, according to an announcement.
Dayco Gold Label serpentine belts offer high performance construction over traditional light-duty belts that allow for added integrity without forfeiting flexibility. Dayco's No Slack belt tensioners and idler pulleys feature a flat spring design to provide less operating range vibrations, which helps reduce the risk of bearing failure due to high tension when a new belt is installed.
"Customers searching for aftermarket engine system components for their heavy-duty vehicle can trust Dayco parts for quality assurance and reliability. This new product line and partnership is a continuation of our expansion into aftermarket engine system parts applications," says Michael Walker, president of JIT Truck Parts.
These new heavy-duty engine system parts can be found on JIT Truck Parts' website (JITtruckparts.com) under the Dayco brand name.