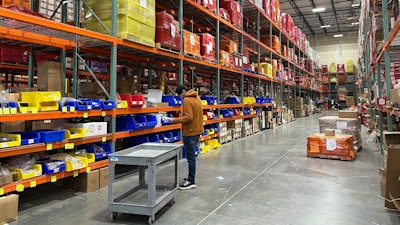 Velociti announced today that due to rapidly increasing technology adoption, strong demand for its VeloCare technology health monitoring and repair service and concerns over supply chain constraints, it has moved warehouse operations to a new 65,000 sq.-ft., facility doubling its current warehousing space.
"The current uncertainty within the supply chain is causing companies to proactively purchase and store more inventory than they have in the past," says Ryan Powell, senior vice president, sales and marketing, Velociti. "With this significant expansion, Velociti is well-positioned to meet our customers' needs now and grow with them into the future."
[RELATED: Dobbs Peterbilt adds regional flagship store in Washington]
Introduced in 2013, Velociti's unique VeloCare Program combines Technology Health Monitoring, Field Repair Services, a Tech Support Call Center, and Inventory Management Services to maximize uptime of technology solutions in any environment. VeloCare currently manages more than 600,000 assets, such as electronic logging devices, vehicle telematic systems, in-cab video safety solutions, restaurant POS systems, Wi-Fi and RFID solutions, the company says.
The new warehouse, less than a mile from Velociti's headquarters, doubled door capacity to 12, has higher ceilings for increased racking capabilities, and provides the space needed for optimal product flow. Its strategic location means shipments can get anywhere in the lower 48 states from one to three days.
Velociti says the facility features new wireless technology and management systems to maximize efficiency and visibility into day-to-day operations. "We are a 21st Century warehouse, priding ourselves in utilizing new and innovative technology solutions," Powell says, adding that much design and planning has gone into increasing throughput and quality while minimizing the need to add additional resources.
The facility also features additional sustainability and safety features, including LED lighting, EV charging stations, trailer lock-down capabilities at dock doors, and state-of-the-art security systems. Velociti's original warehouse location, attached to its headquarters in Riverside, Mo., will now house its expanded Innovation Lab and Customer Experience center.