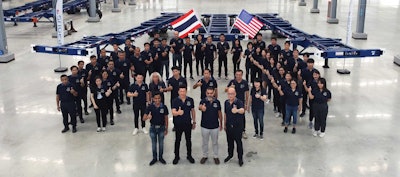 New manufacturers continue to enter the crowded North American trailer space.
Two weeks after Fras-Le parent company Randon announced its intent to enter the marketplace, Thailand's Panus announced Thursday it has officially delivered its first trailers to the United States.
Panus says it delivered its first 150 trailers to the U.S. in March as part of a distribution agreement to bring intermodal equipment into the marketplace. Panus says under the terms of the agreement, the company will supply more than 3,000 trailers in 2022, 7,000 in 2023 and 12,000 in in 2024.
To make this agreement a reality, Panus states it has developed and manufactured a new line of trailers for North America to meet the market's growing chassis demand and has patents pending on a unique twist locks system and the innovative loading process that allows Panus to drop ship chassis in any port or inland location in the USA loaded in 40 ft., HC containers.
"This is a new and exciting era for Panus, bringing quality Thai-made trailers to the North American market. Putting us in the position to expand our global footprint," says Panus Watanachai, CEO of Panus Assembly.
Director of Panus USA, Ayman Awad, adds, "We are pleased to announce the creation of a new and long-term venture – Panus USA. The container chassis market in the United States is quite significant, more than 800,000 units operating in the service of ocean carriers, railroads, truckers, and leasing companies. Demand exceeds supply, and both additional and replacement equipment are needed."
Awad says the U.S. trailers will be built to USA market specifications by Panus Assembly Thailand, and with the advantage of some creative design and pending patents, be shipped to the U.S. "where they will be competitive cost-wise, and often superior quality-wise. Looking forward, we believe Panus USA has a bright and exciting future," he adds.