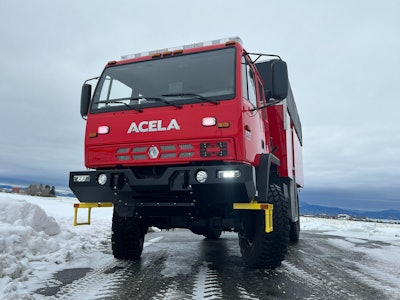 Acela Truck Company and Safetek Profire announce a strategic partnership to distribute Acela Monterra extreme-duty, high-water/flood rescue trucks.
The two industry-leading companies are partnering to offer North America's most capable high water flood rescue trucks and wildland fire trucks, expanding Acela Truck Company's growing distribution footprint and Safetek Profire's growing product offerings, Acela says.
"Safetek Profire is thrilled to add the Acela Monterra line of high-water flood rescue trucks to our product offerings," says Wayne Stevens, vice president of Safetek Profire. "With catastrophic flooding and fire events becoming more common, Safetek Profire has recognized an increasing demand for more multi-use, high-mobility flood and fire rescue trucks. The Acela Monterra is the best solution in the market today. The Acela Monterra, with its 46-inch tires, all-wheel-drive, 50-inch water fording capability and central tire inflation system has proven to be the perfect solution for flood rescue response and can easily serve double-duty as a wildland/brush truck outside of flood/hurricane season, or even perform as a snow rescue truck."
"We're thrilled to have Safetek Profire representing our Monterra high-mobility flood rescue trucks and truck chassis lines in the Canadian firefighting market," adds David Ronsen, president of Acela Truck Company. "Safetek Profire is the leader in the Canadian fire apparatus market and understands the unique needs of their customers. By working together, fire departments will be able to significantly increase their response capabilities with our high-mobility trucks."