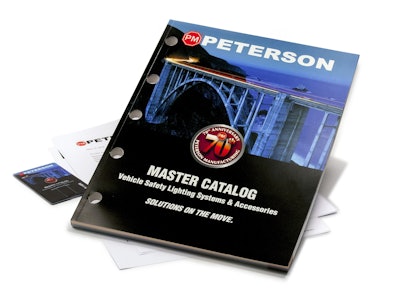 Peterson Manufacturing Friday introduced its 2016 Master Catalog, a 284-page edition featuring more than 2,000 vehicle safety system solutions, most of which are USA-made.
In addition to more than 400 all-new lighting, safety and accessory items, the catalog includes a wealth of technical and reference information, from federal lighting requirements and LED amp-draw tables to competitive part interchanges, warranty terms, and more, the company says. And for the first time the complete catalog is available in PDF format on a free flash drive.
"Peterson never stops innovating and adapting to keep quality solutions on the move for our customers" says Peterson Marketing Director Mark Assenmacher. "There's proof of that on every page of our 2016 catalog. It's packed with hundreds of great new products and redesigned industry-standard lighting footprints. Content is formatted for total ease of use, with color-coded sections and new, quick-reference icons. So it's a snap to locate items and compare features at a glance."
Whether viewed in its colorful print form or the handy online version, the new catalog offers a detail-rich look at Peterson's full product line. The company says just a few of the USA-made items new for 2016 include several series of Peterson's brilliant LumenX LED lights, from clearance/side markers to slim-line rear trailer light kits and multi-function strobe lights.
"If you're looking for cutting-edge solutions in cost-effective vehicle safety systems and accessories, our 2016 catalog is a superb resource," says Steve Meagher, Peterson vice president of sales.