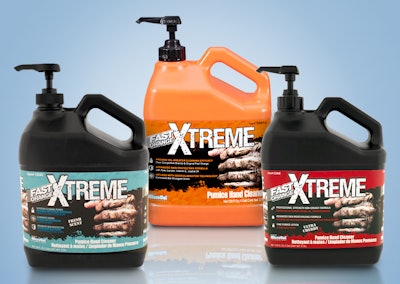 Permatex has expanded its Fast Orange Hand Cleaner line with the addition of new Fresh Scent and Cherry fragrance versions. The new versions offer the same cleaning power and skin care protection as the original Xtreme Orange scent, the company says.
Permatex says the Fast Orange Xtreme line delivers more cleaning power, leaves almost no residue and removes petroleum odors. It features Permatex's proprietary MicroGel technology for better cleaning efficiency. New odor eliminating technology neutralizes the smell of gasoline, oil and other common odors. Fast Orange Xtreme also incorporates an advanced skin protection formula containing skin conditioners.
"Fast Orange Xtreme offers incredible cleaning power and skin protection but was previously only offered in our original Orange scent," says Donny Braga, Permatex senior marketing manager. "We've added Cherry and Fresh Scent to the line to ensure that we continue to provide customers with the unmatched hand cleaning of Fast Orange Xtreme but can offer them a wider selection of fragrances to please everyone."
Permatex Fast Orange Xtreme Orange scent is available in a 15-oz. rocker cap bottle and a one-gallon pump. Fast Orange Xtreme Fresh Scent and Cherry are offered in a low-profile, one-gallon pump.