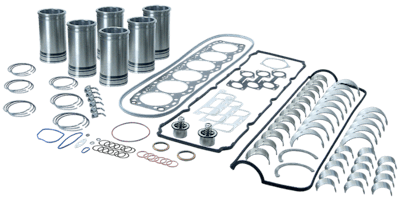 AFA Industries has announced the availability of in-frame kits for Detroit Diesel Series 60 14.0-liter engines.
The kits come with cylinder liners, liner seals, piston rings, gasket sets, connecting rod bearings, main bearings and thrustwashers.
AFA says features of its kit packages include a special proprietary coating on the piston rings to reduce high heat scuffing and provide break-in protection; induction hardened liners for strength and improved wear resistance; AFA's AFAGRAPH graphite cylinder head gasket with steel staked water jacket grommets, stainless steel fire rings and a rigid steel core; and advanced alloy rod and main bearings for durability.