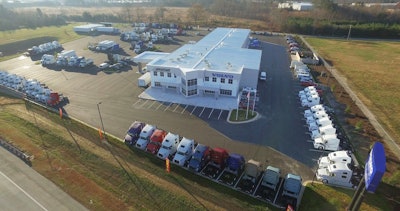 Volvo Trucks North America named Advantage Truck Center as its 2020 North America Dealer Group of the Year as well as its top regional dealership groups during a recent virtual awards ceremony.
Volvo says its annual North America Dealer Group of the Year Award recognizes leading performance across several key areas. In addition to delivering outstanding customer service, Advantage Truck Center performed strong in 2020 and grew their business in a quite challenging year, especially in the regional haul market. Additionally, Volvo says the dealer continues to support customer uptime with a high ratio of master technicians at their service locations.
 "Everyone at Advantage Truck Center should be extremely proud of their achievements as part of the Volvo Trucks family during what was an exceptionally challenging year," says Peter Voorhoeve, president, Volvo Trucks North America. "Advantage Truck Center has proven it is committed to meeting the high standards for excellence and professionalism that Volvo Trucks represents in the transport industry."
Advantage Truck Center is a full-service dealership specializing in sales, rental, leasing, parts, financing, maintenance and repair. Established in 1995, it currently operates locations in Charlotte, Durham, Greensboro and Hickory, N.C.
RELATED 'His administration's lack of business experience will hurt trucking.' Carrier survey shows concerns about Biden
 "As a previous winner of the North America Dealer Group of the Year Award, Advantage Truck Center is deeply appreciative to receive this accolade from Volvo Trucks," says Terry Young, dealer principal, Advantage Truck Center. "I would like to congratulate our entire Advantage team for this acknowledgement of their hard work and uncompromising dedication to service."
Volvo also recognized Hickman Truck Centre as its Canadian Dealer of the Year. Regional winners were Gateway Truck & Refrigeration (Central U.S.); S&S Volvo (Northeast U.S.); Advantage Truck Center (Southeast U.S.); Volvo Trucks of Texas (Southwest U.S.); TEC Equipment (Western U.S.).