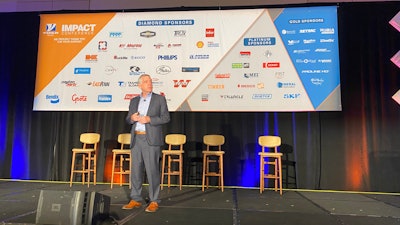 Headwinds are developing in front of the U.S. economy but that doesn't mean a recession is imminent, MacKay & Company's John Blodgett reported Monday during a presentation at the VIPAR Heavy Duty IMPACT Conference.
Blodgett said MacKay & Company's research indicates the U.S. economy has now entered the Boom phase of the economic cycle. Blodgett said entering a Boom phase does not mean a recession is upcoming after a certain period of time, nor does the length of the current phase correlate to the length of a future recession. But in modern economic history, whenever there has been a Boom it has eventually been followed by some type of downturn.
[RELATED: HDMA, MacKay & Company address dichotomy of industry labor shortages]
Blodgett said MacKay & Company is now anticipating that downturn to occur in 2023, citing inflation (and corresponding changes to monetary policy), a slowdown in housing starts, rising fuel prices, a shift in trucking employment and internal MacKay & Company metrics as indicators.
One of those indicators, Enhanced Aggregate Spread (EAS), has successfully identified every upcoming recession for more than 50 years. Quoting MacKay & Company in-house economist Bob Dieli, Blodgett said EAS is now trending in a direction that would indicate a recession is on the horizon, though he also noted it's possible the pandemic and the global structural changes it caused may impact how precise the metric's predictive possibilities are. Yet even without EAS as a leading indicator, Blodgett said those other factors are concerning. He said trucking employment crested in July and fleets are generally quick to right-size their workforce when demand lags.
Blodgett also provided MacKay & Company's most recent aftermarket projections for 2023 and beyond during Monday's session.
Even with muted to potentially negative growth as a possibility in 2023, Blodgett said MacKay & Company is anticipating a compound annual growth rate (CAGR) of 4.6 percent for the U.S. Class 6-8 and trailer aftermarket through 2027. Discounting price, the CAGR drops to 2.1 percent, though Blodgett said MacKay & Company believes the price increases that have run rampant across the aftermarket the past two years will continue in 2023 but slow to 4.5 percent, mostly due to continuing supply chain issues. The company pegs Canada's aftermarket slightly lower with a 3.6 percent CAGR.
Blodgett also released updates of MacKay & Company's industry surveys on e-commerce purchasing and commercial vehicle power generation during Monday's presentation.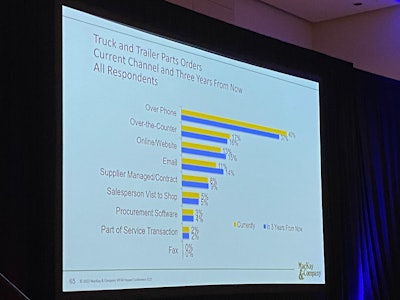 Regarding the former, Blodgett said MacKay & Company's most recent parts purchasing survey discovered 36 percent of fleets would stop doing business with their current distributor within the next three years if they are not able to serve them online. Another 20 percent said they would likely stick with the distributor but reduce their spend due to the lack of online services. Blodgett also reported 16 percent of fleet responders said they have already exited at least one distributor relationship due to the partner not having a viable e-commerce portal.
As such, VIPAR Heavy Duty's leadership team announced Monday they are working with multiple vendors to help support their stockholder's e-commerce solutions.
As for engines, Blodgett said carriers answering MacKay & Company's vehicle purchasing survey still anticipate trucking will be a mostly diesel industry in 2032, with alternative powertrain options representing just 11.6 percent of all vehicles. But while that number is low, Blodgett said those same carriers own slightly more alternative powertrain vehicles in 2022 than they expected to have now when asked in 2019, so there is a chance in ideal market conditions that some fleets power mixes will be higher.