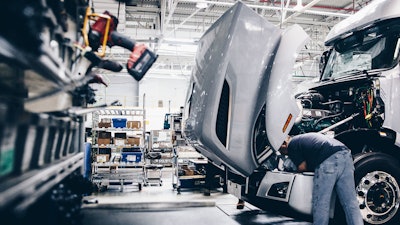 ACT Research announced Tuesday in the latest release of its North American Commercial Vehicle Outlook report that expectations for Class 8 and trailers remain relatively the same in November, though forecasts for dry van trailers are pulling back due to a recalibration of the company's expectations regarding power-only brokerage.
"To accomplish the scheme of introducing drop-and-hook productivity into the small carrier spot market was a plan by large fleets and brokerages to boost trailer-to-tractor ratios, build trailer pools, etc., into the wildly growing pandemic stimulus and supply-chain constrained spot market," says Kenny Vieth, ACT's president and senior analyst. "From first quarter 2021 to second quarter 2022, DAT's spot market postings averaged nearly 4.9 million loads per day. Year to date, DAT's spot posts have averaged less than 1.4 million loads per day, a 71% decline from the heady average experienced at the peak of the pandemic freight bubble."
ACT Research adds the sharp rise and fall in spot market activity reflects a lot of freight getting to where it was originally intended to go, but couldn't due to capacity limitations in private fleets and other dedicated operations. Pulling back on this heretofore anticipated ratio expansion lowers the trajectory of the dry van market, the company says.
Says Vieth, "One of the things staying our hand from deeper forecast cuts, in the face of weak freight fundamentals, has been a solid industry-wide start to 'order season.' The last trimester of the year is the period in which the OEMs usually open their out-year order books, leading to a period of outsized orders that typically extends into March."
ACT Research believes that "it's different this time" factors are at work in 2024, and those factors will help support Class 8 demand around a fundamentally weak U.S. and Canadian tractor markets. The company says those factors include ongoing pent-up vocational truck demand, strong tractor demand in Mexico, a healthy LTL market, and supply chain integrity.