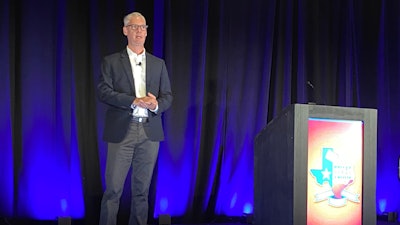 The used truck market got more reassurance there is light at the end of the tunnel Friday, as J.D. Power Director of Specialty Vehicles Chris Visser offered his insights into the market and expectations for 2024 at the Used Truck Association (UTA) Convention in San Antonio.
Following the measured positivity provided by Steve Tam with ACT Research Thursday, Visser confirmed the current fundamentals in the used truck space are as bad as they seem. Weakening freight volumes have forced carriers and equipment out of the market, creating an oversupply in the used truck space that has depressed pricing. Depreciation has finally slowed to historical averages after a year of freefalling, and sales volumes, while higher, are mostly due to movement in the auction and wholesale space.
Visser said the normalization of depreciation will slow continuing price reductions into 2024 but it's still going to be a while before things finally turn around. J.D. Power's models indicate mid-year will likely be the inflection point for the new business cycle, based mostly on broader economic forecasting that is targeting the latter half of next year as a growth period. But Visser also noted when business conditions do finally, and inevitably, turn upward, it won't be a slow, methodical transition.
"The truck market always changes quickly and drastically," he said. "The one thing you can't predict is word of mouth."
In the meantime, Visser said used truck dealers will need to continue to be prudent with their decision making around sleeper tractors. He said sleepers with fewer than 300,000 miles continue to bring good money but "there are none of them out there." Most sleepers entering the market today have higher than average miles and little demand. Visser said 3- to 5-year-old Class 8 sleepers have depreciated by 4.8% per month year to date (YTD) in the auction space and 3.5% per month YTD in the retail sector. Similarly aged day cabs have fared better at 3.1% per month YTD while the medium-duty space, until fairly recently, had mostly avoided falling prices entirely.
"For a while customers couldn't get new medium-duty trucks because the OEMs weren't making them," he said.
Visser also noted there are underlying market statistics that show the industry has almost finished course correcting from the post-COVID sales bubble.
[RELATED: ACT Research's Tam says used market trough won't last forever]
The disparity between retail and auction prices is still tighter than typically seen at about $15,000 for 3- to 5-year-old sleepers but is normalizing, Visser said. In early 2022 demand there was no price spread at all. Additionally, retail sales per rooftop averaged 5.5 trucks per month pre-pandemic. Visser said today's average is about half that but has been steady to slightly up in 2023 based on J.D. Power's data, which indicates a stable demand floor.
Visser also noted with a new order pre-buy almost assuredly coming in advance of the EPA's next round of emission regulations for model year 2027 engines, 2-year-old trucks will be in great demand beginning in 2025, if not even earlier. Visser said fleets who are unable to acquire new equipment in advance of the regulation will be more likely to purchase late-model used trucks to supplement their fleet than keep equipment well beyond their typical trade cycle.
"You're going to want to get as many 2-year-old trucks as you can," he said.