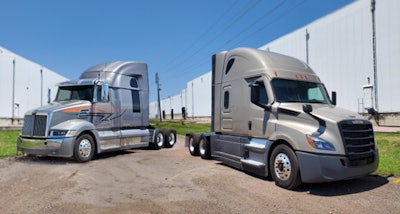 Daimler Truck North America (DTNA) has released Extended OPTIMUM, its new extended coverage solution.
According to DTNA, this customizable coverage is especially suited for Freightliner and Western Star trucks with Detroit engines that are out of warranty or do not have extended coverage. Additionally, an added benefit of Extended OPTIMUM is the availability for customers who already own a used truck and for those who are in the process of buying one.
Typically, DTNA says extended coverages are primarily tailored for the buyers of new vehicles, leaving future owners with limited options to protect their investment. With the introduction of Extended OPTIMUM, DTNA is filling a gap in the market by offering an extended coverage using genuine OEM parts and is backed by a robust dealer service network.
[RELATED: Report indicates September another tough month for used trucks]
DTNA says this is a proactive approach that will improve the ownership experience for all customers throughout the vehicle lifecycle.
"Until now, fleets and owner-operators with expired coverages have resorted to non-OEM warranty providers," says Kelly Gedert, general manager aftermarket strategic value chain and technology. "Many simply go without coverage. With Extended OPTIMUM, customers now get protection for their investment and the peace of mind that comes with DTNA's extended coverage, comparable to the original base warranty."
Customer uptime is DTNA's top priority, and repair work on covered components is pre-approved by the manufacturer to avoid delays in diagnosis and repair, the company adds.
"Extended OPTIMUM covers what our customers need," says Kirk Lewis, executive vice president of I-State Truck Centers. "Coverage from the manufacturer also means no delays chasing down repair and expense approvals. That's good for customer uptime, and great for our service department throughput."
DTNA states the Extended OPTIMUM portfolio of extended coverage for used trucks is flexible and customizable, enabling customers to choose just the engine or chassis, a bundle of engine and chassis, or other standalone coverages. In addition, there are no claim caps, deductibles, or limits of liability and all work is performed by certified Freightliner, Western Star, and Detroit technicians, the company says.