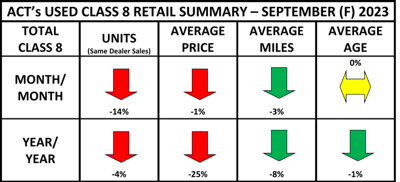 ACT Research says used Class 8 sales are up 135% month over month for September, but prices are down.
[RELATED: ACT Research sees some positives in September trailer data]
According to the latest State of the Industry: U.S. Classes 3-8 Used Trucks, the used Class 8 average retail sale price fell 1% month-over-month and 25% year-over-year in September.
[RELATED: Report indicates September another tough month for used trucks]
"A second month of stability fuels the question of whether the trough has started to firm. We expect lower prices through the end of 2023," says Steve Tam, ACT Research vice president.
Tam says that September is, seasonally, the fourth-best sales month of the year.
"Contributing to that, auction sales soared 135% month-over-month in normal end-of-quarter fashion," he says. "Though the industry typically sees a surge in auction activity during the last month of each quarter, it is reasonable to assume that any equipment owners who were considering selling their assets hurried to do so in September, ahead of the anticipated disposal of Yellow's trucks and trailers."
Tam continued that market performance is still accelerating.
"The overall market has now expanded 25% year-to-date compared to the first nine months of 2022," he says. "And all of this is before the impact of the Yellow failure."
The State of the Industry: U.S. Classes 3-8 Used Trucks report provides data on the average selling price, miles and age based on a sample of industry data.