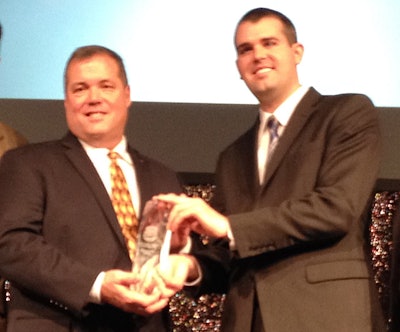 Truck Supply Co. of South Carolina, led by President Edward Neeley, has been named the 2013 Truck Parts & Service Distributor of the Year.
Neeley was presented the award Tuesday during the opening general session Tuesday morning at Heavy Duty Aftermarket Week in Las Vegas.
Neeley purchased Truck Supply Co. in 2002 and under his leadership the business has grown from a single location to three facilities with a parts warehouse and a service center in central South Carolina.
"Wow," a visibly surprised Neeley said while congratulating his fellow nominees. "I never would have thought we would have been able to take this company where it is today."
VIDEO: See the announcement here
Neeley also thanked his family for "putting up" with him.
"That's a job within itself right there."
"We owe a big thanks to all of our employees and, most of all, all our customers," he adds.