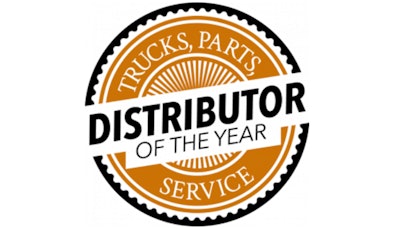 Four weeks ago, Trucks, Parts, Service announced the finalists for our 2020 Distributor of the Year award. Selected through open industry nominations, this year's finalists include three prior award winners and a prior award finalist.
To learn more about these businesses, we have asked each to answer a few questions about their operations ahead of the award finalist profiles that will publish on this site in the coming months. Today we learn more about Jim Hawk Truck Trailers.
This is the first time Jim Hawk Truck Trailer earned a nomination for the TPS Distributor of the Year award. The answers below were provided by Vice President, Aftermarket Clint Carter.
When was your business founded, and by whom?
Jim Hawk Truck Trailers was founded in 1973 by James V. Hawk.
How many locations do you have?
Nine locations. Council Bluffs (headquarters), Des Moines, Davenport and Sioux City, Iowa; Morton and Chicago, Ill.; Sioux Falls, S.D.; Kansas City, Mo.; and Gretna, Neb.
How many employees do you have?
210+ employees
What is your company's value proposition?
Jim Hawk Truck Trailers offers a comprehensive line of trailers from the industry's most respected brands as well as a full line of parts, service and rentals. Our emphasis to deliver great service both during and after the sale has allowed us to build a very large and loyal customer base across our region.
We want to provide our customers with great products and the best possible service available for all their transportation related needs. From financing and leasing to service, parts and rentals, Jim Hawk Truck Trailers would like to earn your business!
Do you offer any additional services to complement your parts offering?
Jim Hawk Truck Trailers offers new/used equipment sales – trailers, spotters, and trucks, as well as repairs and equipment leasing and finance.
How do you differentiate your business from your competitors?
We provide high quality products and exceptional service to customers – before the sale, during the sale and after. Our customers can count on us to be there for the support they need.
Why do you believe the heavy-duty aftermarket has nominated you for this award?
We are thankfully to be recognized as a Distributor of the Year finalist. We feel that the standard set by our founder Jim Hawk and carried out today by Jim Hawk III and David Hawk provides the market with a level of service and product support that customers appreciate and sets us apart from the rest of the marketplace.
The TPS Distributor of the Year program is sponsored by Minimizer, Meritor, Interstate Billing, Karmak and the Commercial Vehicle Solutions Network (CVSN).
To learn more about our other 2020 Distributor of the Year finalists, please see below.
Learn more about 2020 DOTY finalist Betts Truck Parts & Service
Learn more about 2020 DOTY finalist Cook Brothers Truck Parts