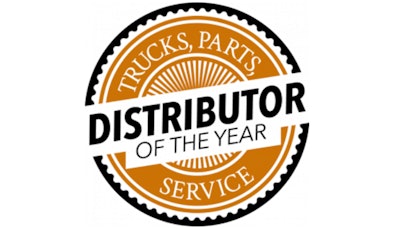 Four weeks ago, Trucks, Parts, Service announced the finalists for our 2020 Distributor of the Year award. Selected through open industry nominations, this year's finalists include three prior award winners and a prior award finalist.
To learn more about these businesses, we have asked each to answer a few questions about their operations ahead of the award finalist profiles that will publish on this site in the coming months. Today we learn more about Point Spring & Driveshaft.
This is the fourth time Point Spring & Driveshaft has earned a nomination for the TPS Distributor of the Year award. The company was previously nominated in 2003, 2012 and 2013 and won the award in 2005. The answers below were provided by President Sean Ryan.
When was your business founded, and by whom?
Point Spring & Driveshaft Co. was founded in 1926. We were originally located at the "Point" in Pittsburgh where the three rivers meet and our primary line of business was making leaf springs, hence the name Point Spring.
My grandfather, Bill Ryan, Sr., started working here in the 1930s and bought the company with a partner in 1963. It has remained family-owned and operated ever since.
How many locations do you have?
Eight locations. Pittsburgh, Greensburg, New Castle, Meadville, Clearfield, and Troy, Pa.,; Fairmont, W.V.; and Akron, Ohio.
How many employees do you have?
138
What is your company's value proposition?
For many years, Point Spring would announce a "theme of the year" at its year-end meeting that would be the focus for the upcoming year. When I became president in 2017, I announced that the theme of the following year was going to be delivering the "Ultimate Customer Experience." I also told the team that it was going to continue to be our theme for every subsequent year for as long as I am around.
We now view every single thing we do through the lens of meeting and exceeding all of our customers' expectations every single day. It is the singular reason for our existence.
Do you offer any additional services to complement your parts offering?
We are a full-line service provider. We service what we sell and can repair, replace or install any component that is part of our product offering. We do everything from engine and transmission rebuilds to frame rail replacements. We have many dozens of top-notch service technicians, state-of-the-art equipment for driveline, suspension, and fluid power, along with well over 50 service bays across our location footprint.
How do you differentiate your business from your competitors?
There are many factors, but the most significant one is the knowledge base of our team. I have lost track of how many employees started working here before I was born. That knowledge, combined with their passion to be the best in our market, translates into a solution-oriented experience for our customers that they often find lacking at our competitors, especially the dealers.
Why do you believe the heavy-duty aftermarket has nominated you for this award?
My hope is that we were nominated because the industry sees the values that drive us and those values resonate with them. We are firm believers in a strong and unified independent aftermarket. It benefits everyone in the value chain from our suppliers to our customers. We also believe in integrity and respect. Part of that is self-respect which means standing up to ensure that we continue to have a strong voice that can be heard loud and clear throughout the entire industry.
The TPS Distributor of the Year program is sponsored by Minimizer, Meritor, Interstate Billing, Karmak and the Commercial Vehicle Solutions Network (CVSN).
To learn more about our other 2020 Distributor of the Year finalists, please see below.
Learn more about 2020 DOTY finalist Betts Truck Parts & Service
Learn more about 2020 DOTY finalist Cook Brothers Truck Parts