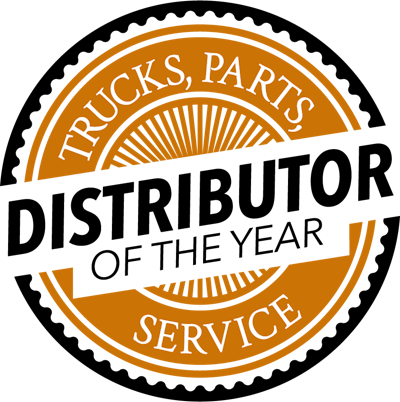 Trucks, Parts, Service is excited to announce the finalists for our 2021 Distributor of the Year Award, sponsored by the Commercial Vehicle Solutions Network (CVSN), Interstate Billing, Karmak Meritor and High Bar Brands' Minimizer and Premier Manufacturing.
Now in its 20th year, the TPS Distributor of the Year remains the aftermarket's highest honor. This year, five wonderful businesses are up for the opportunity to win our landmark award.
This year's finalists are Covington Heavy Duty Parts, LASCO Heavy Duty, Midwest Wheel Companies, Mutual Wheel Company and Weldon Parts.
Together, these five spectacular industry stalwarts have served the North American aftermarket for more than 400 years. They have 46 points of sale across ten states. Midwest Wheel is the only two-time winner in the history of the Distributor of the Year program (2004, 2012) and also was nominated in 2002. Weldon Parts was a prior award finalist in 2011 and 2016.
"We are beyond ecstatic to have these five organizations as finalists for our 20th award program this year," says Lucas Deal, TPS editor. "Every year the TPS Distributor of the Year program enables us to highlight the excellence and professionalism of the independent aftermarket. These five businesses, all of which have incredibly detailed, rich histories in the aftermarket, showcase the entrepreneurial spirit that makes this industry so wonderful.
"We offer our sincerest congratulations to each company and look forward to learning more about them in the months ahead."
[RELATED: Cook Brothers Truck Parts wins Distributor of the Year Award]
More than 30 independent distributors garnered nominations for this year's Distributor of the Year program — including seven prior winners and 15 prior finalists.
Trucks, Parts, Service will be revealing more about our 2021 Distributor of the Year finalists in the months ahead and will present our 20th award on Tuesday, Jan. 25, 2022, at Heavy Duty Aftermarket Week in Grapevine, Texas.