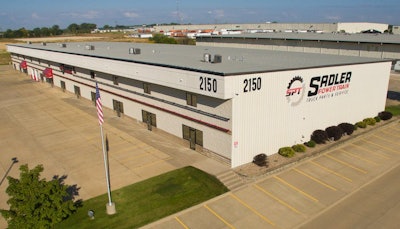 Sadler Power Train is a seasoned veteran when it comes to being named a finalist for the TPS Distributor of the Year award. Before winning the award in 2015, the company was a finalist in 2013 and 2014.
Sadler Power Train was founded in 1974 and has four locations — Cedar Rapids, Davenport, Dubuque and Waterloo, Iowa — serving customers in Iowa, western Illinois and southwest Wisconsin.
John Sadler, president, Sadler Power Train, says a combination of the company's value proposition, corporate culture and employee commitment has created loyal customers over its near-50 years in business.
"We stay true to our business principles of what our business has been built on, which is quality products at competitive pricing, technical expertise and great customer service," Sadler says, adding he buys American made products whenever he can. "We're not always the cheapest but we're competitive and our everyday delivery creates a significant value that helps us capture the sale, regardless of price."
The technical expertise comes from having specialists dedicated to each part of the business. The technicians stay within their own departments, thus becoming experts in their area.
"That's just the way we run our business and we have really talented people because of that. I don't expect all of our employees to know all aspects of this business," Sadler says.
The company offers differential, transmission and driveline rebuilding and repair, flywheel grinding, U-bolt bending, brake shoe relining and hydraulic hose manufacturing, in addition to its full-service truck repair facility in Davenport.
Sadler says the company's culture has been established to promote respect and fairness toward all employees. "To help us maintain this culture, we continually promote teamwork, trust and integrity in all aspects of the organization," he adds.
Sadler Power Train might also be the only company to boast having a batting cage for its employees at its Cedar Rapids location. "Employees can take out their aggressions on a baseball," Sadler laughs. In addition, the location has a salon owned by his daughter.
Sadler Power Train's culture and benefits must be working. Between the 102 Sadler Power Train employees is 1,050 years of experience. "We have some really loyal employees, many of whom have been with us 20-plus years." he says.
The company knows its culture is having a positive effect on the business and with its customers based on the feedback it receives directly from its customer base.
For example, Sadler recently received an email "from a customer who went into our Quad City store … and he was extremely happy with the service he received," he says. "We have customers tell our outside sales reps they appreciate our counter staff who are really knowledgeable. They appreciate the delivery person who is in to visit them every day at the same time with their parts."
Engaging with customers also is important to the company.
"Communication with our customers is done by using email, Facebook and outside sales staff that make direct contact with our business partners," Sadler says. "Our marketing department develops some really nice literature that our outside sales staff and drivers can pass along to our customers.
Sadler recently worked with Phase Zero to develop its e-commerce platform website. Not only is the site a way for its customers to purchase parts easily, but they also have developed it to be a go-to resource for their business. On the site customers can view and print their invoices, manage their core reports and browse new products, current promotions, videos, parts catalogs and technical resources.