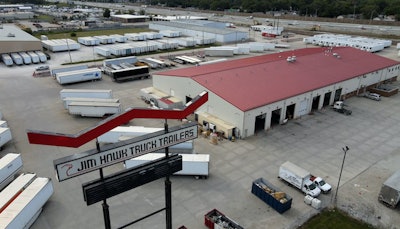 Founded as a single location in Council Bluffs, Iowa, by James V. Hawk in 1973, Jim Hawk Truck Trailers (JHTT) has grown to nine locations. Still based in Council Bluffs, JHTT now has locations in Des Moines, Davenport and Sioux City, Iowa; Morton and Chicago, Ill.; Sioux Falls, S.D.; Kansas City, Mo.; and Gretna, Neb.
Though this is the first time Jim Hawk Truck Trailers has been named a finalist for the TPS Distributor of the Year award, it's certainly understandable why it has received the recognition.
In the early days, JHTT primarily was selling Great Dane trailers, used trailers, vans and flats. Now the company has become one of the largest and most respected dealerships in the Midwest. JHTT offers more than 15 lines of trailers and spotter trucks in addition to a diversified parts department, service and rental offerings.
"We also have taken many steps so we can perform service on any type of trailer. It's not uncommon to walk in to one of our shops and have a belt being replaced in a belt trailer or numerous reefer trailers having side walls foamed," says Jim Hawk III, JHTT president. "We have worked hard over the years to anticipate the needs and wants of our industry."
Regional Parts Sales Manager Curt Westphal says JHTT not only separates itself from others in the industry with its offerings, but in how it treats its customers.
"We're trying to build a relationship with them to be able to service them on their parts, service and trailer needs. We go above and beyond to make sure customers get what they need," Westphal says.
In addition to the customer service, he says customers remain loyal because "we have a lot of employees that have been with JHTT for 20-plus years the customers have come to know and trust."
Behind the success of JHTT is a corporate culture stressing customer satisfaction, treating them as the employees want to be treated.
"Our corporate culture has always been to have great people with the same mindset. If we don't have great employees, we don't have a company. We want to be able to change quickly in our industry but remain true to what JHTT was founded on: taking care of our customers," Hawk says.
"How is the customer being treated? Did they have a good experience? Are they coming back? Are they going to tell their peers in the industry? We have great products we sell, but if our customers don't feel they get the service they need and want, they will go somewhere else," he says.
Hawk says he believes JHTT was nominated for the Distributor of the Year award because the company is growing and changing with the industry to better serve its customers.
"We have a reputation of going above and beyond. When our grandfather started in the industry in the mid-1960s, he wanted to take care of customers," Hawk says. "Over 50 years later, people across the country know when they stop to buy a part, get their trailer serviced or come in to buy a trailer, we are going to take care of them and their company."