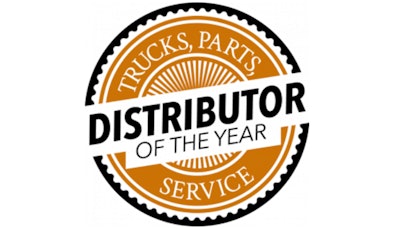 Four weeks ago, Trucks, Parts, Service announced the finalists for our 2020 Distributor of the Year award. Selected through open industry nominations, this year's finalists include three prior award winners and a prior award finalist.
To learn more about these businesses, we have asked each to answer a few questions about their operations ahead of the award finalist profiles that will publish on this site in the coming months. Today we learn more about Sadler Power Train.
This is the fourth time Sadler Power Train has earned a nomination for the TPS Distributor of the Year award. The company was previously nominated in 2013 and 2014 and won the award in 2015. The answers below were provided by President John Sadler.
When was your business founded, and by whom?
Sadler Power Train was founded in 1974 and was the second business founded by Roy and Myrna Sadler, who had established Sadler Machine Company in 1956.
How many locations do you have?
We have four locations in Iowa that serve customers in Iowa, western Illinois and southwest Wisconsin. The locations are Cedar Rapids, Davenport, Dubuque and Waterloo, Iowa.
How many employees do you have?
We currently have 102 "Team Sadler" members across our four locations.
What is your company's value proposition?
Our passion is to provide an unparalleled customer experience through proactive customer service.
Do you offer any additional services to complement your parts offering?
We offer driveshaft repair, flywheel grinding, u-bolt bending, brake shoe relining, hydraulic hose manufacturing, transmission, and differential solutions at all locations. We also have a full-service truck repair facility in Davenport.
How do you differentiate your business from your competitors?
Through the expertise of our team along with our customer-focused processes. We are constantly researching technological advancements to make it easier for our customers to do business with us.
Why do you believe the heavy-duty aftermarket has nominated you for this award?
Because of two main aspects. We have a loyal customer base who are great business partners. Without question, our greatest asset is our people. We are 102-team members strong. As a unified team, we work together to deliver excellent customer service every day.
The TPS Distributor of the Year program is sponsored by Minimizer, Meritor, Interstate Billing, Karmak and the Commercial Vehicle Solutions Network (CVSN).
To learn more about our other 2020 Distributor of the Year finalists, please see below.
Learn more about 2020 DOTY finalist Betts Truck Parts & Service
Learn more about 2020 DOTY finalist Cook Brothers Truck Parts
Learn more about 2020 DOTY finalist Jim Hawk Truck Trailers
Learn more about 2020 DOTY finalist Point Spring & Driveshaft