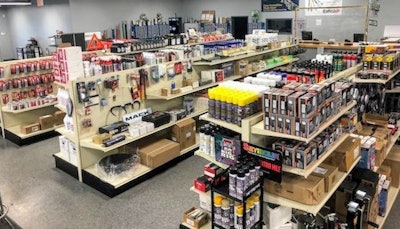 Nearly 50 years ago, Henry Cook, president and majority owner of Cook Brothers Truck Parts, left behind a career teaching accounting and finance to buy the company that has been in his family since 1918.
Despite his teaching career, he's always been around the heavy-duty aftermarket trucking industry, dating back to his high school days realigning brake shoes after classes. His tenure in the industry is one of the main reasons why he prefers to run his business using "the old ways of doing things." And that means focusing on the quality of the parts, not the price.
Always choosing quality over cost-cutting and having a staff that understands the products they're selling are a couple reasons why Cook Brothers Truck Parts has been named a 2020 finalist for the Trucks, Parts, Service Distributor of the Year Award. This is the second time the company, with nine locations in New York and Pennsylvania, has been nominated for the award since 2010. In addition to selling parts, Cook Parts offers driveline repair services and hose manufacturing.
"I'm very careful in the products we sell," Cook says, especially if the company is importing them or putting its own brand names on them.
Not only does Cook Brothers have imported products tested by a third-party, those products also are periodically retested "to make sure they're maintaining quality standards," he says.
The standards are equally high if the company is putting its brand on a product. "For example, we have Cook Commercial Lubricants. I just don't go buy cheap oil. It's all co-branded with DA Lube, which is a major blender that does a lot of private branding for major companies. We know we're getting quality products," Cook says.
A wide array of quality products and a staff knowledgeable about the products Cook Brothers sells is what keeps customers coming back.
"Customer satisfaction is extremely important to our people and we will go out of the way to make sure the customer's needs are met," says Michael Venuti, vice president and part owner.
Customers know Cook Brothers has a large inventory of products and pricing is fair and consistent. What's more, the employees will do whatever is necessary to get a customer's truck back on the road quickly, Venuti says.
"I believe our family centered culture leads our employees to treat our customers the way the customers want to be treated," he adds.
Robert Seyerlein, vice president and part owner, agrees the company's family focus is vital to a loyal staff and customers.
"Basically, it's a family business. Both Henry and I have our children in the business and we treat all of our employees like family. Some of my best friends are employees here," Seyerlein says.
And for Cook Brothers customers, "it's all about relationship building and knowing these people for a long time," he says.