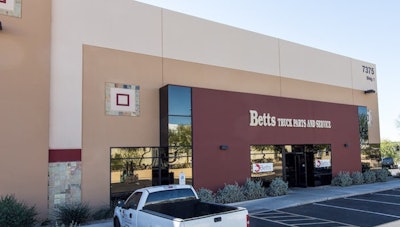 When William Michael Betts was manufacturing springs for horse-drawn carriages more than 150 years ago, his mantra was "Building well, serving better."
"It speaks to having quality product," says Bill Betts, president and chief operating officer, Betts Company. "But you can't just have quality product, you have to back that up and be a company people want to do business with."
Six generations and 152 years of continuous family ownership later, Betts Truck Parts & Service remains a company people want to do business with as it has been named a 2020 finalist for the Trucks, Parts, Service Distributor of the Year Award. The company was named a finalist in 2006 and won the award the following year.
Betts says the truck parts and service business is about a journey of constant evolution, trying to get a little better than the day before.
"Our purpose statement now for Betts Company, and it applies to each of our business units, is we 'Improve the Way Things Move,'" he says. "Everything we do can correlate back to that statement, whether it's development of our team, the products and service we offer or the knowledge we transfer to our customer base to help keep their fleets operating."
Tying into the company's purpose statement, says Betts, are seven core values: Respect everyone. Aim for excellence. Share your passion. Act ethically. Communicate. Take care. Work smart.
"If we live up to that purpose statement of improving the way things move and we follow those seven core values, we're not only a good team member, we're a good human being and a positive contributor to society," he says.
As with all companies in the industry, Betts Truck Parts & Service is having to navigate through the coronavirus pandemic. Having navigated business through two world wars, the Great Depression and the Great Recession, among other historical hardships, Betts Company accepts the fact that some things are out of its control.
Betts says he relied on thought leader Brian Kight's concept of E+R=O, Event plus Response equals Outcome, to craft an adaptive strategy for the rapidly changing business climate. "The only thing we control is our response. We can't control the event; we can influence an outcome but we can't control it; so, all we have is our response," Betts says.
With E+R=O in mind, company leaders responded quickly and mapped out scenarios. Betts notes, "We learned from our mistakes during the Great Recession, when we assumed the economy would return to normal sooner than it did and we didn't right-size the business quickly enough.
"Everyone in the organization responded well," Betts says. "Our job is to … realize through adversity how we can get better. Our people lived up to that."
Decades of experience, striving to be better and triumphing over adversity are characteristics that likely keep customers coming back to Betts Truck Parts & Service.
"Time is money. Solving our customers' problems quickly or finding the answer for them — making their life easier — is at the center of why we exist. Our job is to be there for our customers when they need a partner to get them back on the road with the right parts or repairs. That's the value we provide," Betts says.