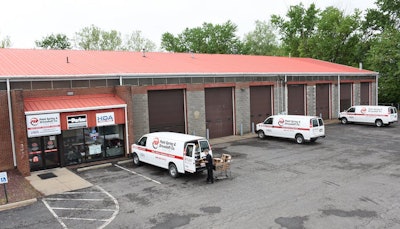 Achieving the rarified air of being named a 2020 finalist for the Trucks, Parts, Service Distributor of the Year Award is nothing new to Point Spring & Driveshaft. After all, the company was a finalist in 2003, 2012 and 2013 and won top honors in 2005.
That kind of consistency of excellence in providing parts and service says a lot about the distributor, which has eight locations throughout Pennsylvania, Ohio and West Virginia.
Historically, the company would announce a theme, which would be the company's emphasis for the upcoming year. When Sean Ryan became president in 2017, he decided "Ultimate Customer Experience" would be the company's focus that year and every year after.
"It's really about not only meeting customer expectations but exceeding them," Ryan says. "Even if it's someone we've been doing business with for 20 or 30 years, we still want them to feel like we're exceeding their expectations."
Exceeding customer expectations means if a customer can get his parts from another distributor the next day, Point Spring wants to get him those parts the same day. It also means clean showrooms, hot coffee for customers, answering the phone in two or three rings instead of five or six — "anything to make [the customer] experience even marginally better is worth doing and is something we focus on every day," Ryan says.
Executing on their primary objective became more of a challenge since the coronavirus pandemic. Point Spring, deemed essential from the beginning, has been adhering to all of state, federal and local regulations, Ryan says. In addition to serving customers, the company also has been keeping employees safe, he adds.
"Our employees are people and they have families. We have to make sure they feel comfortable and safe. We spent a ton of time and money on personal protective equipment and provide time off when needed."
While exceeding customer expectations is one part of Point Spring's company culture, "Respect" is another integral part.
"A culture of respect is hugely important to me. Respect for each other in the workplace, whether they're managers or the people working underneath them. Additionally, we have to respect our customers and our supplier partners. People recognize it and appreciate it," Ryan says.
"Day to day we're just delivering parts and fixing trucks, but the long-term glue is the culture and that's what keeps us moving in the right direction," he adds.
Company culture, Ryan believes, is what keeps Point Spring customers coming back. It's more than just customer service, it's about offering quality parts Point Spring and its supplier partners stand behind. The company's goal is to sell parts that last at least as long as they're supposed to, even if that means selling fewer parts in the long run, Ryan says.
"We're aware our customers can get things cheaper. But that's not really our go-to-market strategy. We want to sell parts that are going to last a long time for our customers," he says.