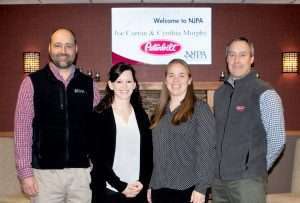 The Larson Group (TLG) announced this week it has signed up to partake in a prestigious new partnership between TLG's OEM, Peterbilt Motors Company, and the National Joint Powers Alliance (NJPA).
The partnership will give municipalities and not-for-profit organizations the benefit of purchasing Peterbilt trucks without undergoing a traditional bidding process. The program also enables vendors to purchase trucks directly from dealer stock at prenegotiated discount prices.
As a participating dealer, all of The Larson Group's Peterbilt dealership locations will offer a simplified truck purchasing process for NJPA members—comprised of municipalities and not-forprofit organizations. On top of avoiding traditional bidding processes, NJPA members who buy trucks through TLG are likely to enjoy an even quicker purchase thanks to the company's dedication to maintaining a robust inventory of premium trucks and tractors at all times, the company says.
"TLG maintains an aggressive stocking program, which means our Peterbilt dealerships typically have more than 100 vocational trucks and 100 tractors in stock at any given time," says TLG Director of Medium Duty and Vocational Trucks Shawn Yancey. "All of our locations will be able to provide incredibly quick turnarounds for NJPA members who are ready to purchase trucks on the spot."
By offering premium municipal trucks, vocational trucks and other vehicles that suit their customers' needs, TLG says it aims to offer existing and would-be NJPA members something else in addition to coveted time and money savings: a valued relationship.
"Along with other Peterbilt Motors Company dealers across the nation, TLG's primary goal is to bring award-winning customer service and product availability to members of NJPA," says Yancey. "By having trucks on the ground and specs at the ready, we can quickly get them back to what really matters to them, which is helping their respective communities and causes."