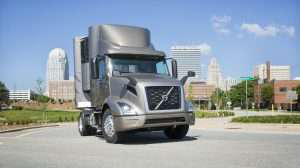 The first of Volvo Trucks North America's new Volvo VNR models today were test driven by members of the North American trucking trade press during a two-day event in Winston-Salem, N.C.
Volvo says the test drive included several different configurations of the new tractor and took place on inner city roads and highways, offering a comprehensive driving experience and a complete look at the versatility of the new VNR regional haul model.
Launched in April at ExpoCam in Montreal, Quebec, customers have responded favorably to the new truck, as evidenced by positive customer comments and a strong order intake. The VNR model, available in the VNR 300 daycab, VNR 400 flat-roof sleeper and VNR 640 mid-roof sleeper, is ideal for urban areas, pickup and delivery, liquid tankers, dry bulk, flatbed and other regional haul applications. The new VNR model features a new aerodynamic design, work environment, improved engine and transmission options, gearing and loading efficiencies, passive and active safety systems and integrated connectivity, Volvo says.
"We are very pleased with the positive customer response we've seen since we launched the Volvo VNR," says Göran Nyberg, president of Volvo Trucks North America. "Our order intake, especially for the VNR 640, has exceeded our expectations, and we look forward to delivering the truck that meets all of the unique demands of the regional haul market."
Thirteen editors from more than 13 trucking trade magazines participated in the test drive. Editors had the opportunity to drive a Volvo VNR 300 with a 28-foot trailer; a Volvo VNR 300 with a 28-foot refrigerated trailer; a Volvo 400 6×4 flatbed; and a Volvo 6×2 flatbed, the company says.
Like all of Volvo's North American models, the new VNR was designed and developed at Volvo Trucks' North American technology center in Greensboro, N.C. The VNR will be produced at Volvo's New River Valley assembly plant in Dublin, Va., and the Volvo engines and transmissions powering the VNR will be produced at Volvo's powertrain manufacturing facility in Hagerstown, Md.