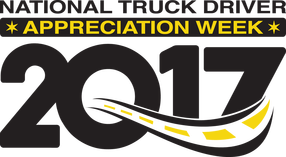 The Fyda Freightliner truck dealership network, along with American Trucking Associations (ATA) and the entire trucking industry, is getting ready to honor millions of professional truck drivers who work each day to deliver America's freight safely and securely during next week's National Truck Drivers Appreciation Week.
"It's easy to get caught up in the daily grind, so next week we are looking forward to slowing down to say thank you. We invite all of our customers to stop in to any of our dealerships next week so that we can show them how much we appreciate their 24/7 hard work keeping this country moving," says Carole Firth, marketing manager at Fyda Freightliner.
During National Truck Driver Appreciation Week, Sept. 10-16, 2017, Fyda Freightliner dealerships will mark the celebration by offering customers complimentary foodstuffs and sweet treats, along with special "Fyda Freebie" gifts on Tuesday and Thursday during the week. Each dealership is doing something different, so customers are encouraged to stop in more than once during the week to relax in the driver lounges, meet with staff, or even request a tour, the company says.
There are more than 3.5 million professional truck drivers nationwide – delivering everything from food to local grocery stores to books to neighborhood schools. These professional men and women log close to 724 billion miles annually and last year, delivered nearly 70 percent of the U.S. freight tonnage – or 10.55 billion tons. 80 percent of U.S. communities depend solely on the trucking industry for their goods and commodities. Professional truck drivers keep this country moving forward.
Fyda Freightliner asks the industry to take a moment to recognize the significant contributions of professional truck drivers. The efficiency and safety these drivers guarantee allows businesses and American citizens to confidently ship goods across state lines and to every corner of the country, the company says.