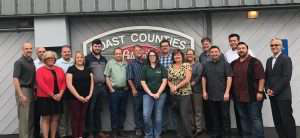 Karmak Inc., recently partnered with Coast Counties, a four-location dealership in the Bay Area, to host a west coast user group meeting for companies running Fusion.
Fusion, Karmak's flagship Windows-based business management system, is currently being utilized by 140 companies at more than 600 locations.  The "Level Up" user group meeting was held at the Coast Counties facility in San Jose, Calif. Karmak says the event was limited to 10+ Fusion users, and included a tour of Fusion use in the dealership, in-depth Fusion training, and updates from Karmak Development, Consulting, and Support Managers.
"Our Fusion customers are getting more and more out of the system.  An event like this reinforces the value that Fusion provides and helps our users identify best practices that they can bring back to their operations to help increase efficiencies," says Steve Reading, West Coast account director for Karmak.  "Our success depends on the success of our customers.  Seeing how the team at Coast Counties is utilizing the capabilities within Fusion is energizing – the more we can share that, the better."
Coast Counties Peterbilt is the oldest single-family owned Paccar operation. General Manager Mike Sorenson and Dealer Operations Troy Magness provided other Fusion users with hands-on examples of leveraging Fusion in their dealership, Karmak says.
"The recent event was a success thanks to the preparation by Karmak and the participation of all the attendees, especially other Karmak customers.  The event included product updates, live demonstrations and relevant discussions.  This provided greater insight into just how pragmatic Fusion can be in supporting the diverse business requirements of the multifaceted dealers that were represented at the event," says Sorensen.