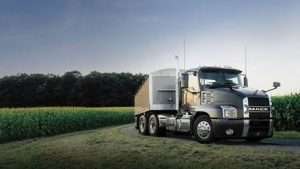 Two newly introduced Mack Anthem trucks will take center stage during 2017 Tank Truck Week sponsored by the National Tank Truck Carriers Oct. 11-13 in New Orleans, La.
Mack says the "the bold exterior, coupled with the roomier and more ergonomic interior, helps prove that the Mack Anthem is the right truck for tanker applications."
Visitors to Mack booth No. PS8 at the Ernest N. Morial Convention Center will see the Mack Anthem day cab with liftable pusher axle and the Mack Anthem 48-inch Flat Top sleeper.
Mack's fully integrated powertrain, featuring the Mack MP engine series and the Mack mDRIVE automated manual transmission will also be on display.
Both Mack Anthem trucks come standard with Mack GuardDog Connect, a telematics solution that improves diagnostics and reduces down time. In addition, each truck features Mack's ClearTech One single-unit exhaust aftertreatment system that saves weight and frame rail space by combining the DPF and SCR into one package.
Included in the booth are:
Engine: Mack MP7-425E; 425 horsepower, 1,560/1,360 lb.-ft. of torque
Transmission: Mack mDRIVE 12-speed Automated Manual Transmission
Features: Bendix Wingman Fusion, Mack 12,500 front axle, Mack MaxLite rear air suspension
Mack Anthem 48-inch Flat Top Sleeper
Engine: Mack MP8-415C; 415 horsepower and 1,660 lb.-ft. of torque
Transmission: Mack mDRIVE 12-speed Automated Manual Transmission
Features: Bendix Wingman Fusion, Mack 12,000 lb. front axle, Mack MaxLite rear air suspension, Mack air disc brakes front and rear