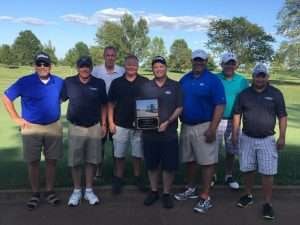 Utility Trailer Manufacturing Company and Craftsmen Utility Trailer have been awarded the Vendor of the Year at Dot Transportation's 20th Annual Business Meeting.
This is the third time both companies have received this award in the past four years.
"We are honored to receive this recognition from Dot Transportation," says Lou Helmsing, president of Craftsmen Utility Trailer. "This award is a tribute to the hard work, dedication and character of everyone involved from both Utility and Craftsmen. It's truly a team effort requiring everybody to do their best – including sales and scheduling, order processing, manufacturing, field service and aftermarket parts."
Accepting the award for Utility were Mike Stratton, regional sales manager and Korey Rundquist, regional field service Manager.
"Thanks to Dot Transportation for this recognition. It is a gratifying to know that commitment to quality is noticed and appreciated," says Stratton. "I want to congratulate everyone at Craftsmen and Utility who were involved in creating such a positive service experience for Dot."
Dot Transportation says it determines the winner using several key metrics. In issuing the award, they provided a few highlights. They pointed out that both Craftsmen and Utility took ownership of all vendor component issues, provided high quality equipment with below average maintenance costs, manufactured and delivered a large quantity of trailers on schedule and on time, and made annual Field Service Department visits.