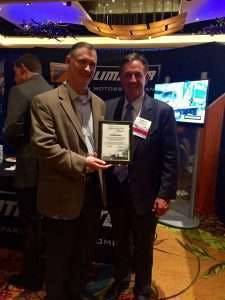 Utilimaster, a business unit of Spartan Motors, Inc., within its Fleet Vehicles and Services segment, was named the 2017 Supplier of the Year by Idealease.
The award was received by Tom Ninneman, president of Spartan Fleet Vehicles & Services, at the Idealease Annual Meeting in September in San Antonio.
"Being recognized as the 'Supplier of the Year' by one of our long-established partners is a huge testament to the value we put on maintaining and building successful relationships within our industry," says Ninneman.
Utilimaster was awarded the honor as a direct result of its work in re-engineering the current 20-ft. Idealease Mobile Maintenance unit to a 16-ft. unit to meet Idealease's business objectives and reduce total cost of ownership without sacrificing quality. The company says 16-ft. Utilimaster truck bodies account for around 90-percent of Utilimaster's mobile maintenance service units sold to Idealease in 2017.
"Designing this innovative Idealease Mobile Maintenance unit was an incredible opportunity to demonstrate our ability to work alongside a client to reach a solution to meet its unique business objectives," Ninneman says. "I am proud of everyone on our team and I want to thank Idealease for the recognition and for continuing to be an incredible partner as we work together to bring meaningful solutions to the fleet industry."
Utilimaster began providing Idealease with insights on how to effectively and efficiently re-engineer the Mobile Maintenance unit in 2016. The company says the design was developed using Utilimaster's Work Driven Design process, Utilimaster's proprietary fleet analysis process that emphasizes onsite fleet review and ride-along insights that inform solution-based designs with zero fleet downtime.
"Utilimaster has readily taken on the challenges of designing products that serve our company, and most importantly our customers," says Andy McEnaney, Idealease vice president of Affiliate Services. "Whether it be on our large fleets, regional companies, or local businesses—we trust the Utilimaster team to provide unmatched services that contribute to our success of being a differentiator in the marketplace."