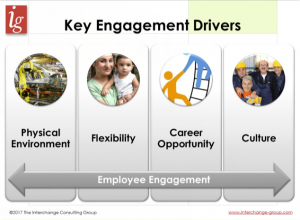 The dealer workplace is changing. Innovation is changing corporate processes. Technology is increasing efficiency. And a new generation of employees is altering the expectations of what is expected from an employer.
Though the latter is less quantifiable than others, Amy Hirsch Robinson, principal at the Interchange Group, says it isn't going away. In fact, thanks to an influx of millennials entering the workforce, employee expectations aren't just changing—millennials are forcing entire industries to fundamentally change employer-employee relationships.
Robinson says gone are the days of two weeks of paid vacations per year and an expectation of loyalty from employees to their companies. Young employees are still willing to remain loyal to their employers, but only when those employers provide a culture of employee engagement. Robinson defines that engagement as an "emotional commitment an employee feels to your business." It's about building a workplace where employees feel respected, valued and fairly compensated for their work. And while most good business owners understand the importance of those feelings with their employees, Robinson says how millennials view them is much different than their predecessors.
The status quo doesn't work with this younger generation. And Robinson says it is employers, not prospective employees, who need to change.
"They have expectations and they will not change them," she says. "You need to adapt to stay in business."
She says companies with high levels of employee engagement regularly outperform competitors and can become leaders in the markets they served. During a NTEA webinar Tuesday, Robinson provided four key drivers for building employee engagement within a business:
Physical environment: Robinson says this one is easy. No one wants to want to work in a dirty, dingy or unsafe space. Additionally, millennials aren't keen on using outdated technology or inefficient methods when easier solutions exist. A good shop cleaning and influx of new tools can go a long way.
Quoting a survey of potential employees, Robinson says 72 percent of responders claim "better or more up to date technology would make them feel more engaged in the business."
Flexibility: This one is harder to address, but Robinson says it is just as important. Young employees value flexibility in when and where they work. This means varied schedules, remote work opportunities and access to work materials via online portals or other methods. Vacation time matters, too, as Robinson says some millennials view two weeks off per year as "inhumane."
Robinson adds its also important for business leaders to talk the talk and walk the walk when it comes to flexibility. A company who allows employees to work remotely can be derailed by a manager who dings employees not at their desk at 5 p.m.
Career Opportunity: Another seemingly obvious factor in job selection that millennials see somewhat differently than prior generations. Young employees don't only want to know they can move up the totem pole, they also want and expect training, mentoring and coaching from an employer to help get them there, Robinson says.
The idea of paying one's due is obsolete, she says. Young employees want "visual career paths" that show exactly what they need to do (and when) to advance. Failing to do so can lead to active turnover, or or create a workforce of unambitious, unmotivated employees.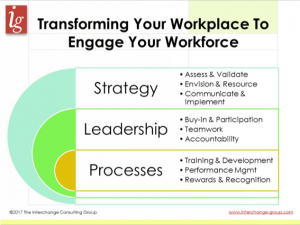 Culture: Each prior driver is just a factor of a larger culture change. Robinson says young employees want to work in a company where they feel valued and heard. She mentions empowerment, recognition, collaboration and transparency as a few aspects to building a winning culture. The idea is to create an environment where employees believe they can make a difference, and are complimented and rewarded when they do so.
But how does a company revolution begin? Robinson says its best to start with an internal audit. Determine how employee engagement is currently being cultivated and how can it be improved. From there, it's best to tackle low-hanging fruit and set concrete goals for larger changes. It's at this point when all employees are brought in on the plan.
"Plan as if your existence depends on it," Robinson says, "because it does."