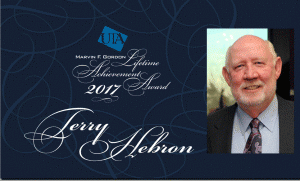 The Used Truck Association (UTA) recently awarded Terry Hebron of Heavy Truck and Equipment Wholesalers (HTAEW.com) its Marvin F. Gordon Lifetime Achievement Award.
UTA says the award recognizes individuals who have made numerous and significant contributions to the used truck industry. He received the award earlier this month at the UTA Annual Convention in Las Vegas.
Hebron has been with the UTA since its early days, which is no surprise since he comes from a trucking family. His father started teaching him to drive a truck at about the age of 14. By 17, he'd gotten his chauffer's license, which was at the time, the commercial license he needed to drive trucks.
"I started my driving career hauling chemicals for Matlack Tank Lines. I ended up as a line-driver for C.F. or Corn Flakes as they were called," he says. Reminiscing about his first truck experience, Terry says he drove a needle-nose 1963 White with a 220 Cummins and a 10-speed. "I was hooked on shifting gears, and I drove until 1980 when I decided to go into the truck tire business."
Since that beginning, Hebron has created three different businesses throughout his career; selling the first two, before he settled on the online business he operates today, HTAEW.com. He created this business when the internet was still in its infancy, and 2400 bps modems were the norm (cable was still years off), UTA says.
"Once I finished putting the website together, I started signing up dealers who I had done business with for many years," Hebron says.
HTAEW.com now has more than 2,500 members and, to date, the site has facilitated more than $171 million in equipment sales. Recently, nearly 1,000 trucks and trailers were listed for sale. Today Hebron can speak from his vast experiences and offer advice to others still building their careers.
"If you have an idea, and you really believe it can make a difference," he says. "Never get discouraged by what others might say. Stay true to yourself, and believe in yourself. Work hard and give back."
UTA says to be eligible to qualify for the Marvin F. Gordon Lifetime Achievement Award, a candidate must have:
A proven career record of accomplishments within the used truck industry.
Demonstrated their capacity for maintaining the highest business practices and standards.
Advanced the goals and objectives promoted by the UTA.