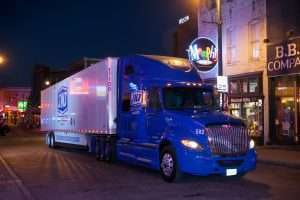 Memphis, Tenn.-based Summit Truck Group recently signed a 500-truck purchase agreement with JNJ Express.
JNJ has authority in 48 states and the Memphis-based carrier of 450 power units has already begun to take delivery of the International LT sleeper tractors. Summit says this is the largest sale of the new LT model by Summit's Memphis location and also JNJ's largest vehicle purchase to-date.
The trucks began delivery in last month and deliveries will continue through December 2020.
The new trucks that JNJ selected include the latest and most complete array of safety options available to the trucking industry. These trucks will employ the same safety systems available on most of today's automobiles, including electronic stability control, radar controlled collision mitigation braking, lane departure, camera-identified speed limit recognition and all-position disc brakes which provide the shortest stopping distance available.
The safety systems will also have the capability to transmit data and pictures via telematics in a "real-time" format.
Summit says JNJ choose to renew its fleet with International after analyzing of the performance of the 235 Internationals the fleet has purchased over the past three years. The determining factors, Summit says, were the reliability of the product, service and parts availability, OnCommand Connection telematics from Navistar, and the Fleet Support Team of Summit's Customer Service Department.