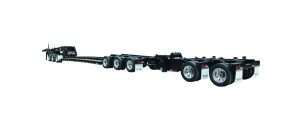 Talbert Manufacturing Monday introduced its new 60/65SA trailer, a unit that has been designed to accommodate both tri-axle and tandem-axle jeeps.
Featuring 2+2, 3+1 and 4 axle close coupled configurations, the trailer's design offers the flexibility to carry a variety of load options.
The trailer offers a 60-ton capacity rating with its 13-ft. 6-in. two-point rigid load base as a 2+2 or 3+1 configuration. Owners also can configure the trailer with four close-coupled axles with no gooseneck extension, which provides a 65-ton capacity with the trailer's 13-ft. 6-in. two-point rigid load base. This versatility saves fuel and alleviates costs associated with additional permitting for maximum return on investment, the company says.
The 60/65SA features an optional 70-in., flip-up gooseneck extension to achieve a 190-in. swing radius while its removable kingpin stations allow for 120-in. and 108-in. swing radiuses. Talbert says customers also can choose Talbert's optional hydraulic linkage, eliminating the need for manually flipping the gooseneck extension. The trailer comes standard with a 30-ft. by 8-ft., 6-in.-wide deck, providing ample space for a variety of loads. Talbert also offers optional deck lengths, deck types, and widths. The 60/65SA's deck features a 22-in. deck height, one of the lowest in the industry. This offers easy loading and unloading of a variety of equipment.
Talbert says this trailer is equipped with Talbert's optional East Coast-style E2Nitro spreader. The E2Nitro uses a combination of hydraulic fluid and nitrogen to equalize axle pressures, providing proportionate weight distribution of each axle grouping. This is said to optimize the range of suspension movement, which minimizes stress and provides a smooth ride. In addition, the E2Nitro features a bearing pivot and pivot lockout for backing the trailer. Users also can hydraulically lock in axle loads regardless of terrain. The E2Nitro is standard with a two-speed dual landing gear for optimal stability when disconnected from the trailer, the company adds.