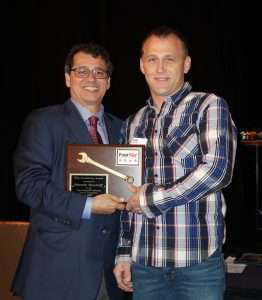 Four Star Freightliner honored its Kenneth "Woofie" Woodruff as its top technician of 2017 during the company's recent Year-End Employee Celebration on Dec. 9, 2017.
Scott Dixon, Four Star Freightliner operations manager, made the announcement at the event in front of more than 200 people, including Four Star employees and their families. Woodruff, who works as a road technician out of the company's Tifton, Ga. dealership, was named the top revenue-producing technician for 2017.
Dixon says previously technicians only received recognition at the dealership level but he wanted all Four Star technicians to see what was possible.
"We hope this recognition program serves as motivation for all Four Star technicians," he says. "We especially want it to be motivation and inspiration for our new techs."
Director of Service Operations East Bert Owens describes Woodruff as "very motivated and highly competitive" and that he is a "great employee and friend."
"He has built our road service in Tifton year after year through hard work and sleepless nights," Owens says. "Woofie has done a tremendous job handling the responsibilities of the service truck, building a good relationship with customers on the local level and helping expand our road service revenue."
Woodruff has worked for Four Star Freightliner for five years. He is an A-level technician with all system certification and expert certification. Four Star says he has the highest score one can achieve with Penske breakdown service SOS, a perfect 10.