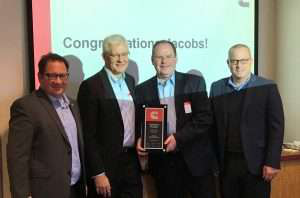 Cummins Inc. has awarded Jacobs Vehicle Systems with the Category Partnership Award. Cummins presented Jacobs with the accolade, which recognizes Jacobs as a world leader in engine braking technology, during a recent joint-leadership meeting.
"In 1961, our first engine brake sold was for the Cummins NH engine," says Dennis Gallagher, Jacobs Vehicle Systems president. "Since then, we have collaborated with Cummins to deliver innovative products that bring high performance, quality and reliability to the fleet owners and truckers who rely on our products. We proudly accept this award and look forward to continuing our relationship with Cummins in the future."
For more than five decades, Jacobs has partnered with Cummins to deliver valve train technologies for on- and off-highway vehicles, according to the announcement. Domestically, Jacobs designs and manufactures engine brakes for Cummins for the ISL, ISX-12 and ISM engines, as well as the ISX-15/X15 platform. Globally, Jacobs engine brakes are installed in the Cummins ISZ, ISM and ISL engines in China, and the ISL engine in India, Brazil and Europe. In addition, aftermarket up-fit kits continue to be produced for legacy engine platforms.